Crime Express Returns (& so does p j harvey)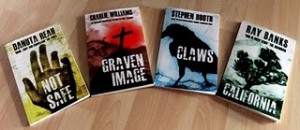 Next month sees the return of Five Leaves' Crime Express series, which I edit. Those of you who have read earlier books in the series may notice that they have a new look. But most readers have never seen a Crime Express novelette, because we had great difficulty getting them into shops. The first eight books were beautiful, tiny A6 objects, with smart flaps, ideal for shoving into a pocket of almost any size. But hard to display. The authors loved them, but readers couldn't find them. So, reluctantly, after much discussion, we've moved the series to normal size, where they will fit more easily onto bookstore shelves.
Why should you buy then? Crime Express aims to present the best of Crime Writing today, from new writers you may not have heard of to established names like Stephen Booth. His 'Claws' was the best selling of the original Crime Expresses but has been out of print for a while. So it's been rejacketed and reissued with three new stories. And whatever the merits of the new size, I have to say that the new jackets, with more space to play on, look terrific. Ray Banks, whose 'Gun' many rated as the sharpest of the first eight books, returns with an excellent, rain soaked noir, called 'California'. (No, not that California. There's a UK village with that name. Really.) There's a CE debut from Danuta Reah (who, confusing also writes crime under a pseudonym, Carla Banks, which could make her Ray's fake sister) called 'Not Safe', a gripping whodunit about the death of an Asylum Seeker in Sheffield. And finally, we have Charlie Williams, author of the superb, soon-to-be-expanded Mangel trilogy and the deliciously deranged 'Stairway To Hell'. He won't mind me saying that his dark, complex, paranoid mystery 'Graven Image' was the toughest edit so far. Why? I'm giving nothing away, except to say that you'll know when you read it. And you'll want to read it twice. At least.
The new books won't be officially on sale until the middle of next month, but if you can't wait, Inpress have them in stock now. On a different note, officially out tomorrow is the long awaited new album from p j harvey. I listened to it twice yesterday and it's powerful stuff, her best for many years. This seems like the appropriate track to preview.