Teddy Thompson at The Rescue Rooms, February 8th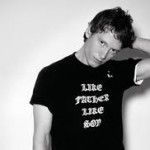 Teddy Thompson is single, and the songs on his new album 'Bella', released on Monday, let us know it. On each of his three visits to The Rescue Rooms the admiring throng of female followers has grown thicker. Hardly surprising, given his film star looks and rich, memorable singing voice.
It'll be interesting to see if 'Bella' emulates his last album, 'A Piece Of What You Need' by entering the album charts in the top ten. Reviews have been mixed. Unfairly, for it's as good an album of country tinged pop-rock as you can hope to hear. It gets a good airing tonight, as does the last album and his second, 'Separate Ways', the title track of which takes on the air of a classic. His band keeps getting better. New addition Jessie Nelson duets with Teddy and plays fine violin. The other band members are Ethan Eubanks (drums), Jeff Hill (bass) and Daniel Mintseris (guitar).
In songs like 'Separate Ways', 'I Wish It Was Over' and the new Radio Two playlisted single 'Looking For A Girl', Thompson demonstrates that he's inherited his dad's gift for wry, self mocking cynicism. During the three song acoustic set, he introduces 'Turning The Gun On Myself, 'since I was in Nottingham I thought I'd play a song about suicide because… well, you live here.' Charming, you might say. He then gets the crowd to perform the whistle solo, claiming that he can't whistle himself. Whistling in the dark has rarely sounded so indisciplined.
There are plenty of lighter moments in the 90 minute set. A song he regrets leaving off the new album, 'What Will I Do', is an unexpected treat. The main set concludes with the sentimental, 'Take Care Of Yourself'. The highlight of the four song encore is Teddy accompanied by his acoustic guitar while his excellent four piece band give us high spirited, acapella backing vocals. The song? A terrific rendition of Abba's 'Supertrouper'.
That was the unabridged version of my review for the Nottingham Post. Here's that suicide song.