The Afterlife & Other Short Stories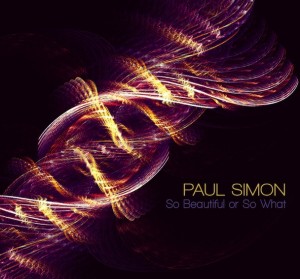 I'm between drafts of a new novel, so I've had time to work on a couple of short stories that lay, unfinished, in the 'pending' folder on my computer. This week I finished one called 'The After Life'. This morning, when I saw a new song with the same name linked to on the whatevershebringswesing mailing list, I had to click through. This is the second song to be previewed from Paul Simon's forthcoming album, So Beautiful or So What and it's so good I just listened to it twice. Simon's last album, Surprise, was a real return to form, as was the accompanying tour, and this sounds even more promising. Check out the song here.
A former student of mine, novelist Chris Killen, published a cool short story about Paul Simon,Paul Simon Gives Chevy Chase The Finger in Loops magazine. Watch him read from it here.
While I'm writing about short stories, this is a good time to plug my friend Scott Pack's new blog, Me And My Short Stories, in which he reads and writes about a different short story every day of the year. Brilliant idea. I tend to read two short stories a week (not counting student work) but Scott is posting so many interesting ideas from writers I've never read that I may have to up this. His reviews range from two short sentences, like today's, through to quite thorough ruminations.
Another old friend, Michael Blackburn, has revived his old magazine, Sunk Island Review, on the web, and has a new short story by Geoffrey Heptonstall up this week. Mike published one of my earliest short stories, 'Eating Out', 20 years ago, and was good enough to dig out a copy of Sunk Island Review 3 so that I could rewrite the story as part of a Young Adult novel that Five Leaves publish next year. You can read two of my short stories over on the downloads page linked above. Heck, I might add another one soon.
Some great songwriters have the ability to tell a full, engaging story in a short song, Randy Newman, Willy Vlautin and Paul Simon being obvious examples. When I finally got to see Simon live, in Birmingham a few years ago, it was well worth the wait. Sue and I were in the front block, row ten, and managed to get in front of the stage when everyone stood for the 45 minute encore. Paul performed 'Mrs Robinson' and the rest less than five feet from us. Amazing. That night he sang what I think is the best song he's ever written, certainly my favourite from the solo albums. Here's it is, in the original version, recorded with Art Garfunkel for a reunion album that never appeared. The official version is on the classic Hearts And Bones album.