Nearly Dan, Nottingham Glee 24/3/11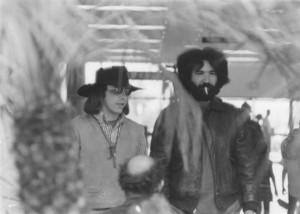 This is an extended version of my review for yesterday's Nottingham Post.
I don't do tribute bands, but I kept hearing good things about Nearly Dan, who have been playing together since 1997. The friends who accompanied me to the show had seen them four or five times each. Any band that originally named themselves after a Coronation Street factory ('Baldwin's Casuals') must have something going for them. Plus there's the choice between paying £75 and travelling to London (for the original Steely Dan's last UK date, several years back) or £12 and a bus into town. The sound at Glee was better than I've heard for many bigger bands at bigger venues, with crisp guitar and chunky bass.
I'm a huge Steely Dan fan – had a ticket to see them on their aborted 1974 tour and finally got to see them twenty-two years later. Just the once. I fancied hearing the songs live again, and Nearly Dan certainly give you your money's worth. Two long sets cram in the best of the Steely Dan catalogue. Complicated music, played well, with a nine piece band, including a horn section and two backing singers. The renditions are faithful, but not slavishly so, with occasional, inventive embellishments. Frontman Steve Hayes has a strong, suitable voice and a good line in self deprecating humour, though I could have done without a rundown of which cities have the worst one way systems. Also, it would have been nice if, when playing Kid Charlemagne they had acknowledged the death of acid king Owsley "Bear" Stanley (pictured above with Jerry Garcia) who inspired the song. And, talking of kings, what inspired them to change the lyrics of 'Hey Nineteen' from 'Hey nineteen, that's Aretha Franklin – she don't remember the queen of soul' to 'that's Otis Redding – she don't remember the king of soul', a particularly unwarranted change, on the eve of Franklin's birthday (and, speaking for myself, the idea that Redding is a greater figure than Franklin holds no water whatsoever).
Nobody's getting rich off this and, fourteen years in, Nearly Dan are more of a working band than the original, sporadically performing outfit ever were. Their jazz chops are impressive, featuring plenty of 'Aja' and a particularly good 'Doctor Wu'. Were they as good as the original(ish) Steely Dan I saw at the NEC fifteen years ago? No, but I sat a lot closer and they played more of my favourite numbers. By the climax of the two and a half hour set, a rousing 'My Old School', I was singing along with a very happy crowd. Can't see myself repeating the experience though. I'd rather stay home and watch the original band on a dvd. That said, the friends who'd been before said that the Nearly Dan experience is usually much less formal than the sit down at Glee situation – they tend to play at wander round, grab a beer, have a drink with your mates publike venues, and they might be even better in that context. It remains that, bar a Dutch Beatles band in the 70's (fun to dance to) and a Robert Wyatt tribute in Newark (with Robert in the audience), I've never paid to see a tribute band, and can't see myself starting. Here, have the original version of Kid Charlemagne. And watch out for the brown acid.