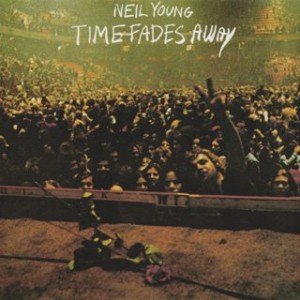 Unlike most Neil Young fans my age, I didn't get into him via 'After The Goldrush' or 'Harvest'. I heard the single 'Heart of Gold' and been blown away by its live B side, 'The Needle and the Damage Done'. Finding a new live album at the Record Mart in Burnley, I bought it. Turned out NATDD wasn't on it. Indeed, it was rather a shambolic affair. However, in those days, buying an album was such a major investment that you played it to death even if you weren't sure about it. I had a routine. Three plays on the day of purchase, two on the second, once a day after that, to stop myself getting sick of it too quickly (thirty odd years later, the new album by my favourite band, REM, has been out a month and I've played it maybe three times total). But I digress. For 'Time Fades Away', a rough, very raw live album from Young's 1973 Stray Gators tour, consisting entirely of new songs, turned out to be a classic.
If you haven't heard of it, why not? Young has refused to put it out on CD (hopefully it will appear on the second set of his Archives project), perhaps because of the sound quality (raw but fine), perhaps because the tour has many unhappy associations for him – drug deaths and an audience that wanted to hear 'Harvest'. So the songs are mostly forgotten. But they're essential to the Young canon. I used to have a Young songbook and once performed the title track, with its elliptical lyrics,  at a folk club in Brierfield as part of my teenage folky poet act (if you thought my singing was bad, you should have heard the guitar playing). Then there's the wonderful, stone cold classic 'Don't Be Denied' which is the story of Young's early life. I found myself singing it last year as I wandered round Winnepeg in the early morning. Couldn't download it onto my iPod as it's not been digitally released. OK, the final track 'The Last Dance' is pretty hard work, but the album also contains the crucial 'J0urney To The Past' with two more of the best piano ballads in Young's entire catalogue: 'The Bridge' (after which he named a school for kids with disabilities) and this week's song of the week. It's not the Young version, but one I downloaded sometime last year, from the great Big O site and never listened to. It popped up on random play yesterday and knocked me out. It's from a concert called the 'Neil Young Project' and features musicophile extraordinaire Elvis Costello performing his version of 'Love In Mind' from 'Time Fades Away.' Enjoy.
And, while I can't upload the TFA version, here's a rare occasion when Neil revived the song, 35 years later, in 2008. Followed by an early version (recorded at Toronto's Massey Hall, which I visited last year, with its fantastic acoustics) that predates the TFF one but is very similar to it – possibly my favourite version for its naivety and fragility, despite the fluffed opening lyric.
Neil Young – Love In Mind (late)