k d lang & The Siss Boom Band – Nottingham Royal Concert Hall June 4th, 2011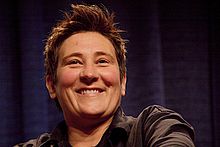 A very slightly extended version of my review for today's Nottingham Post.
On kd lang's first visit to the Royal Concert Hall, nearly twenty years ago, the audience was dominated by screaming young women. Tonight the top tier is empty and there are notably more males, of the middle aged variety. The Canadian singer is touring with a permanent band who give her a more relaxed onstage presence. They launches into 'I Confess', followed by a boomy 'Summer Fling'. The sound settles down for a delicate 'Water's Edge'. Then it's a lovely 'Miss Chatelaine' from her breakthrough, still most successful album, 'Ingenue'.  The intro is coquettish, her stage dancing joyful.  The title track of new album, 'Sing It Loud', is dedicated to 'all the freaks. I expect Nottingham has its share. We have our share on stage, too.'
The set reaches its peak with 'a country song by The Talking Heads', a mesmerising version of 'Heaven' that shows off k d's vocal pyrotechnics, reminding anyone who's forgotten that she's the best in the business. Even this is excelled by what follows, a stunning arrangement of 'Hallelujah' that brings many to their feet. It's a song that has been done to death in recent years, but k d was one of the first to cover it and reinvents it all over again. I've only seen the song's writer, Leonard Cohen, perform it better.
Trouble is that the remaining half of the show is an anti-climax. Twelve of the eighteen songs played come from the new album and, while the show remains enjoyable, things start to get samey. The band is great, but doesn't explore her sublime back catalogue in much depth. Only set closer 'Constant Craving' returns the excitement factor. There's always a balance between playing old stuff that the audience is familiar with and showcasing the new material that the artist, is, understandably, keenest on. Maybe I'm in picky reviewer mode when I suggest that a longer set might get round the problem. The ninety minute concert ends with a full standing ovation for the final encore, a lovely version of 'Hungry Bird', which also closes the new album.