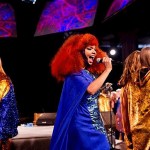 Late blog this week as we just spent 27 hours in Manchester, where we saw the opening of 11 Rooms, the group show at Manchester Art Gallery, where Marina Abramović's naked crucified woman was the final and most memorable room we saw. In the first, a guy tried to exchange my hat for a stale croissant. I think the swap shop concept needs a bit more work before it becomes a work of art, or he ends up with anything decent at the end of the day.
At the Whitworth, we happened up Atom Egoyan's amazing installation, which appears in hardly any of the publicity and is accompanied by his 2002 film of Beckett's Krapp's Last Tape. 35mm film spools out of a side room based on the film set, then rolls across the main room in myriad manners before it feeds through an editing machine. Mesmerising. We were also absorbed by a huge exhibition of Francis Alys's videoed London walks. Fascinating work, which I'll be returning to. Some of his earlier stuff can be downloaded here.
And, finally, Bjork, performing in the round in an intimate former market hall, where we stood by Sean from Coronation St and a famous Northern actress who Sue instantly recognised from her voice. It's a fantastic, crazy, theatrical show, with a full Icelandic choir and a different setlist every performance, though at its core is her forthcoming album Biophilia, narrated by David Attenborough. Kitty Empire describes it in detail here to save me the effort and it's as good as she says. Too early to discuss the new songs, although Crystalline, which I'd heard before and which you can download below, was a highlight. There's one performance lcft, after which it will doubtless tour arenas. Here's one of the handful of old numbers she played.