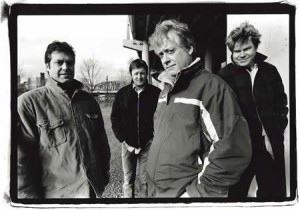 This is a slightly extended version of the review that appears in today's Nottingham Post.
Willy Vlautin likes his songs to speak for themselves. Richmond Fontaine's new album is a song suite that the band play in full during this two hour show. 'The High Country' has some narration, provided by guest vocalist Amy Boone, from The Damnations (replacing Deborah Kelley on the album), but most of the sad story of love, loss, derangement and escape comes through the songs. Willy doesn't give us any recaps. He does tell us how he started writing the album when he was woken at 4.30am by a logging lorry. Less convincingly, he insists that Bing Crosby is one of his patron saints ('I know he beat his kids, but maybe they deserved it', he jokes). For the first half hour, by the way, the band weren't helped by a canoodling couple, standing at the front of centre stage (with a large gap around them), who spent the time snogging and feeling each other up. Willy dedicated one song to them, but he and Amy seemed relieved when they left. To get a room, presumably.
'The High Country' has several highlights, like 'The Chainsaw Sea' and 'Lost In The Trees', but might be hard work for those who don't already know it. To recompense, the remaining set concentrates on the band's most accessible songs, centred around their breakthrough 'Post To Wire' album. The addition of Boone turns the title track back into the magical duet that it originally was. There's a terrific 'Through' and a beautiful 'Allison Johnson'. ' 'Four Walls' brings matters to a tumultuous close. A glorious, melodic encore includes what might be their signature tune, 'Barely Losing' and a final 'Winner's Casino'.
Vlautin's debut novel 'The Motel Life' is about to be a movie starring Dakota Fanning. It's to be hoped his success as a novelist doesn't curtail the career of this fine band, who keep becoming better musicians. Earlier, Laura Gibson played a beguiling, varied set. With influences ranging from the Cowboy Junkies to Leadbelly, she is a a distinctive, promising talent.
Laura Gibson – All The Pretty Little Horses
Richmond Fontaine – The Chainsaw Sea
Richmond Fontane – Post To Wire