ARCTIC MONKEYS, VACCINES, NOTTINGHAM ARENA October 28th, 2011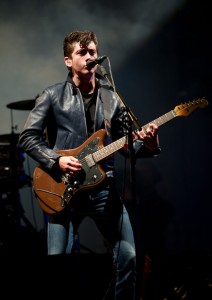 Two years ago, The Arctic Monkeys hit Nottingham on their first arena tour and most fans felt they didn't pull it off. The well-worked sardonic wit that worked so brilliantly in a smaller space became a hard rock dominated set which only satisfied hard core fans at the front.
Two years on, the Ice Stadium has sold out again. The Arctics have become used to playing big gigs in the last two years, and their fourth album, 'Suck It And See', is their best since the first, full of glorious, pithy pop songs. This summer, in the weekend of its release, they played two huge Sheffield shows that were staggeringly good. Can they keep it up?
The Vaccines come on to 'Rock'n'Roll Radio' and wear their Phil Spector/Ramones influence on their sleeve. No bad thing. Their short, snappy, melodic songs make for an ideal warm up. 'Do You Wanna?' and closer 'Norgaard' stand out.
The Arctics take the stage to Hot Chocolate's 'You Sexy Thing'. They kick off with four singles, back to back, a real statement of intent. Alex Turner, with  his new quiff, constantly engages the audience as he failed to two years ago. Even if all he says amounts to 'are you having a good time, Nottingham', it's the thought that counts. 'I'll Bet That She Looks Good On The Dancefloor' gets played early on, creating an audience frenzy that – forty minutes in – carries the band into the 'rock' section of the show. By 'Still Take You Home' there's a frantic mosh pit at the centre of the front standing.
The traditional mid-gig lull follows, where the band plays songs that they like, even if the audience reaction steadily flattens. New song 'Evil Twin' is OK, but sounds like the B side it is. The drummer gets to sing on plodding rocker 'Brick By Brick'. 'Love it or hate it' Alex says of this one, but most are indifferent. 'Black Treacle' starts to lift things, then it's a superb triple whammy to end the 70 minute main set. 'Fluorescent Adolescent', 'Do Me A Favour' and 'When The Sun Goes Down' all get an ecstatic reaction.
Opening encore 'Mardy Bum' – probably their most loved song – has a crowd singalong. A brilliant 'Suck It And See', then the lovely '505' sends everyone home happy. When your only complaints are that the band missed out a few favourites and 87 minutes seemed way too short, you know you've seen a terrific show.