States of Independence West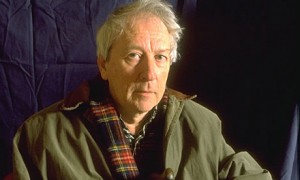 Literature happens in the provinces. In a week when the metropolitan literati fall over themselves to boast that they've never heard of the Nobel Prize for Literature winner, the great Tomas Tranströmer, Sue and I recalled seeing him read in Huddersfield, twenty odd years ago (Did she read with him? The mists of time won't part). And I found myself on a panel at a new literary festival, entirely about independent presses, chaired by Simon Thirsk, founder of Bloodaxe Books, who publish Tranströmer in this country and will have all of his books reprinted by Tuesday.
This was the first States of Independence West, after two very successful SoI East days in Leicester over the last two years, and it was good to see so many familiar faces. Birmingham has a thriving literary scene, as evidenced by Friday's episode of The Verb, which was all about Birmingham and included a good interview with David Lodge about consciousness and the novel (available on iPlayer until Friday 14th). I was representing my Birmingham publisher, Tindal St, who got my Bone and Cane novel to number one on Amazon across three weeks this summer, and Nottingham's Five Leaves who publish Secret Gardens and The Pretender, both of which I'm inordinately proud of.
And what did I say? Principally that the system isn't working – at least, not for indy publishers or authors who aren't huge best-sellers. The level of discounts demanded by Waterstones (60%) and Amazon (50-60+%) mean that  books published in small or smallish runs are never going to turn the sort of profits that publishers need to pay themselves a living wage. If you're lucky, after paying a 7.5% royalty and warehousing and distribution costs, a publisher might be left with – at most – 20% of the cover price of any book with which to pay all of their other costs. You can do this if you outsource your subbing to India and your printing to China, but small presses don't have those economies of scale. The eBook might help. Except that most of the same fixed costs apply to eBooks – you save on printing and warehousing, but authors get a higher royalty and eBooks attract VAT, which eat up those savings. Plus, people aren't willing to pay premium prices for many eBooks. Mine are currently three or four quid. An economically sustainable model – if you want books edited and promoted properly – would probably price them at twice that. We didn't have time to go into this, but many authors are self publishing their previously published work on Kindle, where the original publishers haven't hung onto the digital rights. The paper editions of these novels effectively become loss leaders for the Kindle editions. Good for the authors, but not so good for the publishers, who may be megabucks corporations or heavily subsidised by the Arts Council, but are more likely to be in a rather more uncertain zone in between. Tricky times.
I bought some books from East Midlands publishers, including the latest Candlestick Press Christmas poems collection, edited by Carol Ann Duffy and the Collected Poems of my friend, the late Michael Murphy, which is launched in Liverpool next week by Shoestring Press. Alan Baker of the excellent Leafe Press gave me a lift home. My publisher at Five Leaves, Ross Bradshaw, also gave me a copy of their first CD, in which the great actress Jill Balcon reads (beautifully) the poems of her late husband, former poet laureate C.Day Lewis. Sadly, Jill died before the disc, which contains some of Lewis's most personal work, was released. So, as well as an apt song of the week (a Nick Lowe B side that Wilco cover on their new album), here's a poignant poem of the week, to celebrate National Poetry Day and the small presses that keep so much poetry alive.
C.Day-Lewis – Children Leaving Home