Rumer – 21st November, Nottingham Royal Concert Hall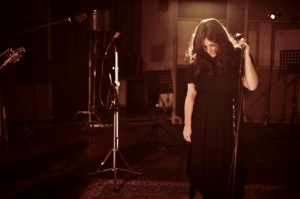 This is my review of last night's show from the Nottingham Post, with a download of one of the show's highlights and a bonus cover version, which (if I remember correctly) Rumer put out to her fans on Valentine's day this year.
It's a year since Rumer played a six song set to Smooth FM competition winners at the casino down the road (my Post review here). That night, she was a nervous presence, yet won over the audience with the quality of her voice. The songs turned out to be growers, too, and Seasons Of My Soul got to number three in the album chart, going platinum with over 300,000 sales.
Tonight, on her second headlining tour, the concert hall was all but sold out and the nerves nearly gone. With a six piece band and two backing singers to fall back on, she joked around and gave the songs relaxed, considered introductions. She was dressed less formally, too, and even played guitar on three key, exquisite numbers: Come To Me High, Take Me As I Am and On My Way Home. She told us the way her mother's death affected her songs and explained how Blackbird was about different kinds of addiction. 'I'm addicted to a negative mind-set', she admitted.
Like Glen Campbell, Rumer is meticulous in acknowledging the writers of a song, and, with only a forty minute album behind her, half of the set consisted of covers. These ranged from the sublime, like Laura Nyro's American Dove, to the ill considered: a clunky version of Joni Mitchell's Free Man In Paris that exposed her band's limitations. Elton John's Rocket Man went down well, but it was the more obscure selections that showed her at her best. Carole King's Being At War With Each Other was great, as was Travelling Boy, a 1974 song that Art Garfunkel has probably forgotten recording.
Rumer has been working with Malcolm from her old band La Honda. He turned up to play on several songs from her forthcoming album of 70's numbers written entirely by male songwriters, 'Boys Don't Cry'.  Fittingly, then, the encores included Stephen Bishop's singalong Little Italy and a rare upbeat finale, Gil Scott-Heron's Lady Day and John Coltrane. Brave to finish with three songs that the vast majority of the audience wouldn't have heard before, even though most were of age in the 70's. I'm glad to say that the best received song of the evening was the aforementioned first encore, American Dove – a late, little known Nyro song given a stunning treatment, demonstrating that Rumer is still, first and foremost, a fan.