Borgen & why Brits don't write about politics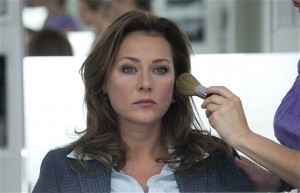 Have to confess that I still haven't got round to watching The Killing. Managed the first few minutes of both the Danish and US versions, but neither looked worth a 20 episode commitment. I expect I'll get round to the Danish version in time, but don't hold your breath. There's a glut of good TV at the moment and long may it last. This is a time when a four star funny series like Bored To Death gets cancelled after its second series and the best drama on television (for my money, were I allowed to pay for it) Breaking Bad doesn't have a UK taker for its fantastic third series, or, at the time of writing, a scheduled dvd release. Mad. Meantime, backed up on my Sky+ box are about eight episodes of the very good but not wonderful Boardwalk Empire, a promising The Mystery of Edwin Drood, loads of the mad but very enjoyable American Horror Show, the first episode of the dependable The Good Wife and the last few episodes of the no longer so dependable Californication. That's just the TV drama. The bulk of the 75% of my 160GB hard drive is taken up with documentaries (mainly music) and movies.
It takes something particularly good to get me to watch two episodes of a new drama the week it begins, but Borgen, a Danish political thriller, fits the bill. It's absorbing, intelligent, superbly acted and, most of all, grown up. It helps, I suppose, that I don't know enough about Danish politics to know how closely the different parties forming a coaliton correlate with reality, but it doesn't feel like satire, or the bland, all politicians are the same slick selfish careerists that we get in US movies like the Ides of March. Nor is it the fairy tale, idealistic world of The West Wing. The politicos feel real, with flaws, sex lives and a sense of humour.
On Wednesday, Radio Four's World At One had a long discussion of Borgen and why UK writers don't touch politics in their books. The implication was that we shy away from it. Well, maybe. If so, there's a reason.
The first big piece of writing I completed was a radio play called The Selection about a Labour councillor trying to get selected as a parliamentary candidate in the run up to the 1983 General Election. I didn't get anywhere with it. A leading radio playwright read it for me and told me it was very good, but I ought to choose less contentious material. 'Don't give them an excuse to turn you down'. When I sold my first novel The Foggiest, therefore,  I left out of the synopsis that one of the characters was the Prime Minister and several scenes took place in the Houses of Parliament. More recently, every single Crime publisher in the UK (that's right, all of them) turned down my crime and politics series Bone and Cane, primarily because they figured readers were put off by the politics. They themselves liked it, you understand, but readers think it's boring. Bullshit. Politics is about power, corruption, ambition, moral dilemmas and changing the world: the really big stuff that's at the heart of all great drama. The only problem with politics is that it's very hard to compress into a novel (or TV drama, even more so a two hour movie) because it's complicated, with elaborate rules, lots of history and a vast cast of characters. Writing about it realistically takes a lot of research and skill.
Thankfully, I got a great publisher for Bone and Cane, Tindal Street Press, who understood what I was trying to do and twice took the book to the top of the paid for on Kindle chart. Last week it was published as a mass market paperback. The second in the series, What You Don't Know, is out in May, and can currently be bought for a fiver as a Kindle exclusive on Amazon, where it's already garnered seven intelligent, very flattering five star reviews, despite having substantially more political content than the first novel. Of course, a few readers are put off by the political content, just as some who liked The Killing  won't check out Borgen because of the setting. All I can say is, it's their loss. You can still catch the first two episodes of Borgen on iPlayer. It continues with another double bill tonight.