Jackie Leven, Randy Newman & Joni Mitchell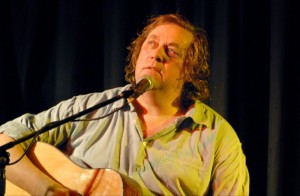 Sorting through the unlistened to live recordings in my collection, I found a show from Jackie Leven, recorded in Essen, a year before he died. Jackie's shows were as renowned for his storytelling as his singing, often laugh-out-loud funny, always in a thought provoking manner. Anyway, I spotted a description of this song introduction as being about Randy Newman, who I'm a huge fan of, but it's also, as it turns out, about Joni Mitchell, who I'm an even bigger fan of. Not only that, but it features one of my all time favourite Joni Mitchell songs. So I figured I had to post it here and share it with the world. In my diary for four weeks ago is the rescheduled Jackie show at the Flowerpot in Derby, where I saw Jackie play twice, and it's such a bummer that I won't get to see him play, and talk, again. Still, we have the music, and the stories, and, coincidentally, Sue just came back from Sherwood with a bottle of what I happen to know was one of his favourite tipples, Co-op Les Jamelles Viognier. So tonight I'll raise another glass in memory of the big man.
The story is below, with the Joni (from the wonderful 'The Hissing of Summer Lawns') and a classic Jackie song for good measure. Randy too.
Jackie Leven – Joni Mitchell & Randy Newman story
Jackie Leven – Walking in Argyll
Joni Mitchell – Shades Of Scarlet Conquering