Frayn's Sheffield season & Breaking Bad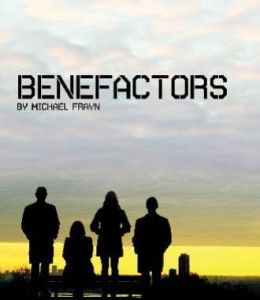 We arranged an overnight stay in Sheffield after a preview of the Crucible's new production of 'Democracy' and booked to see a studio matinee of 'Benefactors' as an afterthought. 'Democracy' hasn't opened yet, so I won't go on about it much. Very good performances, good production and interesting subject matter, but not a great play. Too stodgy, too many people telling each other stuff that they already know. Too much politics to fit in. Still, I'd always rather see something that's over ambitious and it gave us loads to talk about.
I knew nothing about Benefactors before booking, other than – I suppose – that it was supposed to be a good play. And it's sunny out, so I don't have time to do it justice today, except to say that it's a fantastic play: a serious four hander which has all the elements of a great farce (credit for getting this right to director Charlotte Gwinner) but is not a comedy. It's great on friendships between couples as well as urban redevelopment (an unlikely topic for a great play, I know) and superbly performed by Simon Wilson, Abigail Cruttenden, Andrew Woodall and Rebecca Lacey. Completely absorbing. Read what Michael Billington had to say about it. You've got two more weeks to see both. Didn't have time to see Frayn's Copenhagen, which, anyway, we saw the original production of. The train journey also gave me time to try out my new Kindle. Al Guthrie's excellent Bye Bye Baby (only 79p, bargain hunters) was a perfect train read and seemed ideal for the format. Will I get on with it as well on longer books? I don't know. In beds, there were complaints about the clicking noise every time I changed a page.
The good thing about going to a movie or the theatre is that you can all discuss what you've seen directly afterwards. In conversation over breakfast, several of us were agreed that the best thing on TV – where, let's face it, most of the best contemporary drama can be found – is the chemistry teacher turned drug dealer series Breaking Bad. But one of us had just finished series two, another had just finished series three while a third was halfway through series four. So we couldn't have a conversation without risking major spoilers. We'll only be able to discuss it is when the series is long over and all of the heat has gone out of the conversation. Of course, we'd be more likely to be in the same place if a UK TV channel actually showed it… 5USA gave up after series two.