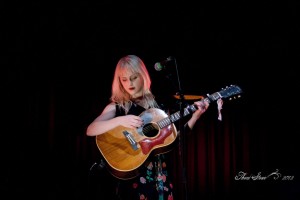 WHEN Laura Marling last visited Nottingham, a little over three years ago, she was a shy 18-year-old playing to a packed Rescue Room. Since then, she's grown her hair, her band and her music, taking on new influences  and widening her sound.
Aided by a Brit award, she's also grown her audience. The packed Concert Hall reminded Laura of her Quaker school assembly hall, and made her nervous. The lovely Don't Ask Me Why merged into Salinas, at the end of which she broke a string. Marling abandoned the song, apologising for her lack of suave repartee while she changed guitars. She turned out to have some patter, though, telling us that she nicked the idea for the title track of her first album from an Iranian poem: 'there's a boy across the river with an arse like a ripe peach, but alas, I cannot swim'.
In the solo section we found out that her mum used to be convinced she wrote Neil Young's The Needle and the Damage Done. This section also included a powerful new song and a lovely Goodbye England. Her voice was decidedly richer than three years ago, with traces of early Joni Mitchell. There were odd moments. Each of her band was asked to introduce themselves with 'a fact'. I'm very fond of HP sauce, so was interested to discover that it was invented in Nottingham, by Frederick Gibson Garton.
The rest, including stuff about Robin Hood in the movies, was of less note. Better, maybe, to fit another song into the 75 minute set? After Rambling Man she reminded us that she doesn't do encores, and anyway she didn't deserve one after "what can only be described as a ramshackle gig".
She left us with a superb I Speak Because I Can. If that was ramshackle, I'd love to see her on a good night.
Review from the Nottingham Post, who put two stars in my 'arse'. Photo by Thom Stone, whose flickr or blog I urge you to check out. Family and friends went to see Laura in Leeds last week, where the show was identical, except she played a Ryan Adams cover instead of the Neil Young one. And here it is.
Laura Marling – My Winding Wheel