Mary Shelley at Nottingham Playhouse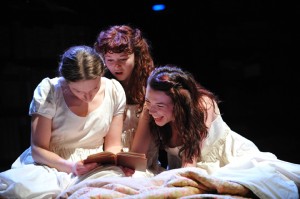 I'm in the middle of a very busy time and my partner has jetlag from a conference abroad, so it took a bunch of very good reviews and word of mouth for us to give up our one free night to go and see 'Mary Shelley' at Nottingham Playhouse. I didn't know Helen Edmundson's work and don't have a strong interest in the Romantics,  but you don't need to know anything about the period or the literature before going to see this terrific play. It's absorbing and historically lucid in a manner that reminded me of Stoppard at his best. But rather than the huge cast you tend to get in Stoppard's historical plays, this has just six actors, playing William Godwin (the excellent William Chubb, who I last saw playing the head in the first production of 'The History Boys') and his wife Mary Ann, plus Mary (Kristin Atherton, right in the still), her half-sister Fanny and step-sister, Jane. Oh and Percy Shelley, portrayed as being as irritating as Romantic poets usually come across, rather believably so. The performances are uniformly superb and the two and a half hours flew by. The play is about the freedom of ideas and where this can lead. It's also about the dictatorship of debt, which is a timely theme. And it's funny. There are enough complicated sexual relationships to fuel an entire soap opera and, while this play isn't about Shelley's Frankenstein or the writing of it, it does explain where the story came from (spoiler alert: from her free thinking father). So, that gives me an excuse to post another song by Aimee Mann.
A co-production with Shared Experience, 'Mary Shelley' plays in Nottingham for another fortnight before going on tour. There are even several two-for-one ticket nights still available. You'll kick yourself if you miss it.