Alan Moore answers & Bank Holiday songs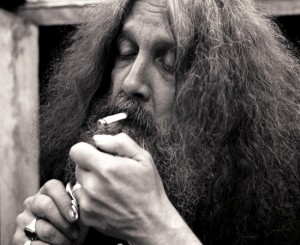 It's come to my attention that there's a double bank holiday this week. How did I work it out? When I spent most of Thursday and Friday, days that I normally do my own writing work, doing university stuff, to make up for the university not being open the first two days of next week. Thanks for that, your majesty, and have a good one. To be fair, I'd switched one bit of teaching to later in the week so that I could go and see one of our greatest literary figures, the magus of the Midlands, Alan Moore, speak at Nottingham Contemporary on Tuesday night. And he didn't disappoint. I got to ask him two questions. Was he ever going to complete his 80's series Big Numbers, which many rate along with his best work. His answer (slightly paraphrased): No. It sent two artists round the twist and I couldn't risk a third. It's my Edwin Drood. To my other question, did he or his partner Melinda have any advice or warnings for the writers working on (unauthorised by him but DC have found a sneaky way of retaining the rights) the prequels to Watchmen? To which he offered a slogan, for free: Who Botches The Watchmen? Classic.
Lots of good music out at the moment. About to play the new Neil Young album, which sounds like sloppy fun. There are a load of great covers on the Rumer album, Boys Don't Cry,  including the surprising choice below, a Clifford T Ward song that I'm fond of (it's the title track of his first album and I have it on the B side of the single 'Gaye'), but always found a little wimpy – it's one of those very personal songs, but somehow she makes it work (compare the versions below). I saw Rumer play a secret support show for St Etienne, last week, with her former band, bossa nova group StereoVenus. Bought the album afterwards, but on vinyl, so I can't offer an mp3, but they were great, as were St Etienne, despite Sarah having a cold. One of their songs was a tribute to Tom Ewing's website about number ones, Popular,  that I read avidly and occasionally contribute to. The new Words And Music album is their best since the 90's, by the way.
One much under-rated singer-songwriter who Rumer might have done well to check out is Kevin Coyne, from Derby, who I knew a bit in the late 70's and was a great hero of mine. He died a few years back, but his son recently unearthed a tape made just before he signed to Virgin (and just after he got his first cassette recorder, in 1972) which contains embryonic versions of many of his best early songs. It's called Nobody Die In Dreamland and I recommend it highly. Finally, in the hope that the sun shines at some point over the next four days, here's a track from the new Beach Boys album, That's Why God Made The Radio. Featuring the return of Brian Wilson, it's patchy, but has some fantastic moments.
Neil Young & Crazy Horse – God Save The Queen
Rumer – Home Thoughts From Abroad
Clifford T Ward – Home Thoughts From Abroad
Kevin Coyne – Now That I Am Getting Old (Need Somebody)