Scritti Politti – Rescue Rooms, Nottingham August 2nd 2012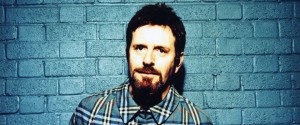 A slightly extended version of my review for the Nottingham Post.
Nottingham has waited 35 years for Scritti Politti. None of the band's previous incarnations, from do-it-yourself post-punk to neo-soul success, have toured heavily. Singer/songwriter Green Gartside suffers from crippling stage-fright. An approximation of the current line-up produced the excellent White Bread, Black Beer album in 2006.
Green's already played Nottingham once this year, in the Sandy Denny tribute, where he seemed confident and sang wonderfully. Perhaps, at a youthful 57, he's ready for us. Or perhaps not.
'Are you alright? Because I'm terrified. Thank you for coming,' he begins. 'Good night.'
The band kick off with classic 'Sweetest Girl'. Five years ago, when I saw the new incarnation at Sheffield's Leadmill, Green on stage was an awkward, prickly presence. Tonight, being upfront about his stage fright seems to have freed him. He sings beautifully, makes jokey asides at the end of each song and even has rehearsed stories. The best of them involves how he wrote Brushed With Oil, Dusted With Powder on Joni Mitchell's guitar.
It's a well structured 76 minute set by a tight band that can play every Scritti style, from the edgy 'first song I wrote', 1978's quirky favourite Skank Bloc Bologna, to more hip hop influenced stuff like the new Umm. Highlights include Wood Beez, Jacques Derrida and a stonking Word Girl. There are promising new songs, a lovely Sun In Snow and the brilliant Boom Boom Bap. If only he'd encored with the sublime Oh Patti, rather than Petrococadollar, it would have been a dream setlist. Maybe he feels that, with Miles Davis unavailable to reprise that horn solo, he can't do his best song justice. Or maybe he just hates it. When I called out for the song at the Leadmill, Green responded. 'Oh Patti? Oh no.'
Early arrivals were treated to Sleaford Mods' sardonic take on modern Nottingham. This duo – shouty vocalist Jason and Fearny on laptop – have echoes of The Fall, John Cooper Clarke and LCD Soundsystem. They also feature the most authentic Nottingham accent since Gaffa's Wayne Evans. Check them out in today's Post.
Scritti Politti – Oh Patti (Dont Feel Sorry For Lover Boy)
Sleaford Mods on Soundcloud. They have a mini album, with a name too rude for The Post to mention. Wank.