Saving The Best For Last: Pulp in Sheffield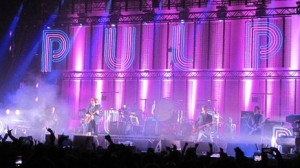 This is the last post of the year bar my best songs of the year cd countdown, which starts tomorrow. I've been to three gigs in the last four nights. Follow the links to read about Squeeze (disappointing) and Beth Orton (outstanding) in the Nottingham Post. I wasn't reviewing last night's gig. In fact, until a week ago, I didn't have a ticket. Tried to get good seats the moment they went on sale, months ago (couldn't stand, because of going with an ill friend) but was only offered ones at the back. Finally found a pair near the front on eBay and they arrived on Tuesday. Phew.
Funnily enough, the seats were very close to where Mike and I sat the first time I saw Pulp, over 17 years ago. It was Oasis's first ever arena show, an event I used in my novel Love Lessons, written that year. We arrived at the arena meaning to catch a bit of support act, The Verve, but the band playing didn't sound like The Verve (it later transpired that their guitarist had broken his hand). The Verve didn't sing about underwear. As we found our seats, they went into 'Do You Remember The First Time?' and we realised it was Pulp. They followed that with the debut of a brand new song called 'Common People' and you could tell at once how special it was.
Six months later we saw them again, at the conclusion of the 'Different Class' tour, when they were on top of the world. Great night, although something about the acoustics meant that nobody could hear Jarvis's banter, which was disappointing. After that, I saw them close up at Rock City on the 'This Is Hardcore' and 'We Love Life' tours and from rather more distance in Sherwood Forest in 2002 (list of every live Pulp performance here). Missed the very final show, six months later, at the Magma centre in Rotherham, but half my family went. Evidently the sound was bad and it was very cold. Then, when they reunited, eighteen months ago, they didn't come anywhere near Nottingham – or Sheffield, my and their hometown. Until last night.
After an hour of intermittent videos and teasing messages projected across the video screen, a word at a time, Pulp took the stage at half eight, launching into 'Do You Remember The First Time', taking me back full circle those seventeen and a half years. 'Monday Morning' followed – a surprising early choice, especially since, as Jarvis pointed out afterwards, it knackered his voice. Needn't have worried, though, what followed was the longest Pulp show ever, a full two and three quarter hours and 25 songs, if you count the snippet of 'White Christmas' at the end.
Jarvis promised that the band had been saving for the best for last now that they'd finally got to this homecoming show, and kept checking that we were warm enough (gently mocking the Magma experience, they even had a video of a coal effect five). A lot of the big numbers came early (eg 'Disco 2000', 'Sorted For E's and Whiz'), creating a full-on party mood, then we were into a history of Pulp, with Jarvis bringing on his sister and an old schoolfriend for 'My Lighthouse' from 1983, followed by 'Little Girl With Blue Eyes' and 'Countdown', also from the band's obscure days in the 80's. They played not only 'A Little Soul' but its B side 'Like A Friend' and, when Richard Hawley joined them debuted a song he'd written with Jarvis during his stay in the band. 'Babies' was there, of course, and the closing numbers of the main set were 'Bar Italia' (one of my favourite haunts when in London) and, of course, 'Common People'.
What was left for the encore? One obvious song. Mike wanted to hear 'Razzmataz' but reckoned they never played that or 'Mis-Shapess' live any more. Instead we got a Jarvis walk through the crowd and a call out to every Sheffield neighbourhood, from Broomhill to Pitsmoor to Broomhall, then the early epic 'Sheffield Sex City' (first time I'd heard this live), that Hawley song (odd choice) and – yeah – both 'Razzmatazz' and a raucous 'Mis-Shapes', which, with 'Common People' is the quintessential Pulp song. A joyous, thunderous reception, then a little speech from Jarvis about what Sheffield meant to him and how even the songs that are about London only make sense because they're sung from a Sheffielders point of view. Finally, inevitably, 'Something Changed'. 'Because it did,' he said.
My last gig of the year. From start to finish, it was emotional. The band did another first at the end of their longest ever show (two and three quarter hours), a group bow. No big farewells, but at the time of writing they have no more UK gigs or recordings planned. If it turns out that this was Pulp's final show, it couldn't have been bettered. I wouldn't have missed it for anything.
Pulp – Do You Remember The First Time