Eject the photographers! Keith Jarrett at the Royal Festival Hall, February 25, 2013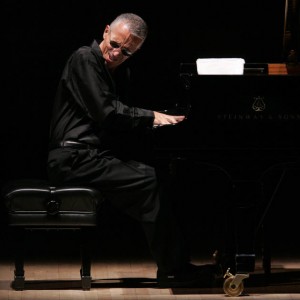 I'd waited thirty-three years to see a Keith Jarrett solo show and forked out forty quid of xmas present money in order to join the South Bank Centre and get priority booking. This worked out well, as we arrived in time to check out the sold out Light Show at the Hayward Gallery, a stunning array of illuminated pieces and installations, that Southbank members get in to for free. There are notices everywhere about photography not being allowed, but these were frequently flouted. Before leaving, I took my partner for a return visit to Olafur Eliasson's incredible night garden of 27 strobe lit (hence you couldn't stay for long) water sculptures just before the gallery closed and we would have had the room to ourselves but for a giggling pair of hipsters, filming themselves in front of the sculptures with an iPhone. Reader, I busted them, to the attendant outside, but our experience was spoiled. Would a notice saying that anyone caught filming would be ejected and have their camera confiscated and destroyed be legal? Only if people signed a contract on the way in, I suspect, but the camera thing is getting silly. We live in increasingly selfish times. Concerts are regularly dominated by people holding up phones so that it's easier to see the image on the phone than the stage (I'm thinking of Plan B and even, at one point, the Family reunion). If you're filming it, you're not really there. You're thinking about showing off to your mates afterwards.
Which brings me to Keith Jarrett's oft derided (even in Fordham's Guardian review) attempts to stop people photographing him on stage. Fordham calls this 'Canute-like' yet Jarrett, towards the end of the show, briefly took off his sunglasses and explained: 'these are more important to me tonight than 63 years of playing the piano' ie a single camera flash can ruin his concentration for a complex improvisation so he has to wear shades. Earlier he told somebody near the front that photography was an art, but you can't make art with a camera like that. This seems like a reasonable attitude, especially as, before he came on, we were given a friendly explanation of why cameras weren't allowed. Even so, during his final, brilliant encore, there was a very bright flash from the right hand side of the hall, which Jarrett ignored, but left a sour taste. Never mind confiscating the offender's camera, I'd have happily authorised the dimwit responsible being thrown into the freezing Thames.
That issue aside, the concert was wonderful, and is described better than I could here, by Mike Hobart in the FT. The Rio album gives you the closest approximation to its sound and structure but what struck me, having heard so many concerts over the years, was how genial Jarrett was, and how physical his performance – hunched over one moment, almost dancing at the piano at others. We got the seats just right – left hand side, sixth row, so we could see that he was doing at the keyboard at all times. He made jokes ('what chord do you want me to play?'), abandoned one improvisation, explained why it didn't work, then played a long, brilliant Summertime and followed it with the story of how he first came to play the tune to an unruly crowd at a festival. For the second encore, he played a sublime version of Miss Otis Regrets and, given that he had a cold, we assumed it was over and had our coats on, only for him to twice return, once with a brief boogie, then for an exquisite, improvised ballad. Indeed, since he now plays shorter pieces than in the 70's and 80's, we were treated to more of the breathtakingly beautiful, elegaic, delicate ballad side of Jarrett than one used to get in the longer improvistations – half a dozen by my reckoning. We gave him four standing ovations.
Thirty-three years and well worth the wait. Thanks, Dad.