Family Reunion – Shepherds Bush Empire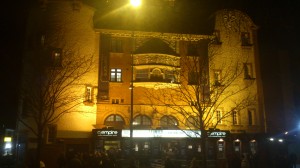 Last year, we were listening to 'Sounds of the Sixties' while reading The Guardian in bed on a Saturday morning, as we are wont to do, when a song came on that Sue recognised. 'What's this?' she asked, and I explained that it was the number that had opened the terrific play about the legacy of the sixties, 'Last of the Haussmans', that we had seen two nights before. 'It's a band called Family', I said. 'Fantastic group. They split up just after I saw them, in 1973." She held out The Guardian guide. 'You mean this group?' There it was. 'For one night only: an evening with Family at Shepherds Bush Empire.'
I got up and did what had to be done. I rang my younger brother, Paul, who is a huge Family fan, but was too young to have seen them play. No reply. I emailed and texted. Then I realised that he was on holiday in Majorca. I checked the O2 website and watched all the seats in the circle disappear. That was OK. For a band like Family you had to stand. Finally, I thought 'sod it' and bought two standing tickets. A couple of hours later, Paul phoned, emailed and texted from Majorca. He wouldn't miss it for anything. I told him it was all right – I'd just bought his birthday present.
1973. I was intrigued by Family and had a couple of their singles but it was hearing them do numbers from 'Bandstand' on The Old Grey Whistle Test that got me really interested. I bought the (reduced price), 'Old Songs, New Songs' compilation and asked my dad to get me a ticket see them at Liverpool Empire. None of my mates were interested. We were middle class kids and they were an uncategorisable group of hard men from Leicester. But my parents were big gig-goers, happy for me, at 15, to catch the train to Liverpool and go on my own (soon, I would start taking my twelve year old brother to shows, too). Did Family play rock, blues, jazz or psychedia? It was hard to tell. But, on stage, they were mesmerising. My gig highlight was opener 'Top of the Hill', which I'd heard just the once, on Whistle Test. Then, it was intriguing. That night, it made complete sense. I was knocked out.
Forty years later, after a three and a half hour journey, Paul and I are outside Shepherds Bush Empire, as pictured above. It's a lovely, intimate venue, with great sound. An hour later, when Family are about to take the stage, we have wheedled our way dead centre of the standing stalls section, less than a third of the way back. A well oiled footballer called Frank Worthington comes on to introduce the band, repeating how he used to love them when he played for Leicester City. Then they're there: minus co-writer, guitarist Charlie Whitney (long since retired to a Greek island), but otherwise as full a version of Family as you could hope for, with added back-up men, 'The In-Laws'. They play the first note and we share a smile. It's 'Top of the Hill' (I've posted an alternative version from the wonderful new box set, below). And they sound great.
A terrific 'Drowned In Wine' and 'Holding The Compass' follow. Roger Chapman, sans beard, looks slightly less intimidating than in the old days (when he was epitome of a Pinter villain, if ever I saw one) but sings just as powerfully. The first hour of the show is occupied by tracks from all but their first and last albums. It includes songs that they never played live because they didn't have enough musicians, like 'Ready To Go'. There's a lovely 'No Mules Fool' and – dedicated to Whitney – a terrific 'Between Blue and Me'.
The are five songs that Family absolutely have to play. They started with one of them, and the other four follow each other as the last two songs of the set and first two of the encore: an absolutely corking 'Burlesque', then a fantastic 'In My Own Time' – a showcloser if ever I heard one. They return for the haunting song that broke them: 'The Weaver's Answer' and a delicate singalong of 'My Friend The Sun'. Chappo gives a shout out to all of the deceased and absent members of the band and makes it clear that this was it. The final show. They rehearsed, sober, for a fortnight and it's been hard work but now he's going to get pissed. The band stomp through 'Sweet Desiree' and they're gone.
100 magic minutes (full setlist). Three hours later, we're back, dipping into the box set. Putting on 'Buffet Tea For Two' (the one they should have played from the last album). Paul points out that the compilers missed one track off the box set: 'Song For Lots', the B side of 'Today', which I bought, cheap, at a Hoylake record shop in 1971, and still have. My anal, completist instincts are truly satisfied (except it turns out we're wrong: see comments).
A wonderful show – not as intense, or intimidating as Family in their pomp, of course, but celebratory and valedictory. Family were my kind of band – one where all kinds of influences met in a funky, original, unpredictable, utterly unique way, at the heart of which was a catalogue of wonderful songs. We wouldn't have missed it for anything.