John Fullbright & Terry Ware, Nottingham Glee, April 10th 2013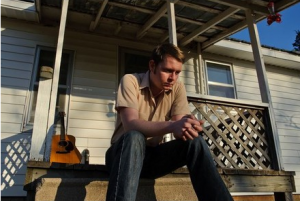 Slightly extended version of my review from The Nottingham Post.
This Grammy nominated singer-songwriter from Oklahoma is just 24 and comes with a head of critical steam plus a debut TV appearance on BBC2's Later this Friday. Fullbright has a rich voice, a rootsy sound and a wide range of material that recalls songwriters as far apart as Ryan Adams and Randy Newman.
In the intimate Glee Studio, he comes on solo with two new, promising songs, then is joined by veteran Oklahoma guitarist Terry Ware. The older man contributes tasty licks and whatever else is needed for the rest of the evening, creating a surprisingly full sound for a duo.
About half of Fullbright's debut album, From The Ground Up, is spread through the evening, including a strong 'Satan and St Paul' and the bluesy 'Gawd Above'. But Fullbright seems more interested in playing new songs. It's understandable. While some of the older songs are derivative – of Kurt Weill or Tom Waits in 'Nowhere To Be Found', for instance – he's clearly on a creative roll. Several of the new songs, particularly those played in a long, central piano section, like 'When You're Here', are in a different league. There's also a great cover of Porter Grainger's song for Bessie Smith, 'Ain't Nobody's Business'.
'Most of my songs start as parodies of country songs then turn serious halfway through', he says before Blameless. The set closer is the glorious Jericho, but even that is blown away by the first encore, a storming piano version of 'The High Road' (a guitar version of which can be found on the Live At The Blue Door download album).  He leaves the mikes behind for Roy Orbison's Crying, then he's gone.
A man with a big future.
John Fullbright – I Only Pray At Night