Big gig week: Mike Tickell/Tamikrest/Graham Parker/Guy Barker/Paloma Faith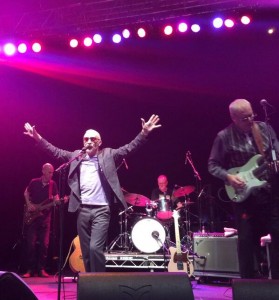 Every year there seems to be what I think of as a big gig week, with a gig most nights. This year's started unexpectedly, at a private party in Northumberland, where the rain cleared to allow a late night bonfire. Splendid music was provided by the host's daughter and a friend, plus two short sets by the great Northumbrian folk singer (and storyteller) Mike Tickell (Yes, father of Kathryn). I posted the second one, with a traditional song and a snatch of Auden, on YouTube with Mike's permission. A well known Nottingham born poet and playwright can be heard breaking a glass during it. No prizes for guessing who.
Then, on Monday, we saw a terrific gig by Tamikrest, the Tuareg band with strong echoes of Tinariwen (one of whose singers they have poached) at Lakeside Arts: a sold out show in a tiny venue. They were mesmerising, with a varied, intense, uplifting set of desert rock and blues.
Tuesday was a teaching day, but I drove to my brother's near Wakefield straight from work and we went on to Leeds to see the triumphant opening night return of Graham Parker and The Rumour, over 35 years since I last saw them, at Blackbushe (they broke up in 1980). Got a good spot standing near the front of the big, crowded 02 Academy. GP got a heroes' welcome. The band looked a lot older, but have never sounded better. They played a handful of songs from the strong reunion album, Three Chords Good, and nearly every one of their classics that you'd want to hear, including a good selection from my favourite, 'Squeezing Out Sparks'. GP was on fire. Even during one long instrumental passage I could see him off in the shadows on the side, throwing his arms around, jumping up and down, wallowing in the fantastic reception the band were receiving. I don't often go in for gigs involving long drives on a work night, but boy was this one worth it.
Don't much like driving to Derby on a Friday night, either. But it had to be done, to see Stan Tracey play 'Under Milkwood' in the Darwin Suite (what is it with Derby and Darwen btw?). I've seen him play many times over the year, the first being a lunchtime jazz society concert in about 1978. He's about to turn 87 and there can't be many more to come. We managed to get a parking place on the top floor of the tiny, crowded Assembly Rooms multi-storey, arriving in plenty of time to get a good seat. Only to find that Stan had been taken ill at 7pm and wouldn't be appearing. So I paid the full evening rate for 7 minutes of parking and headed home to watch a movie. Get well soon, Stan.
So to last night. I first saw Guy Barker play with Clark (son of Stan) Tracey's quartet in the late 80's, and have since seen him lead his own band, so when I saw that the Guy Barker orchestra were playing the RCH, I put in to review it for the Post. Odd, I thought, that a jazz artist was playing the Concert Hall. I doubt many tickets were sold before the guest singer was announced, the multi-platinum selling Paloma Faith, who I knew nothing about. I was game for hearing her do a bunch of standards. However, as it turned out, she concentrated on her two albums. Still, it was a real treat to hear a full 42 piece orchestra in the concert hall. I only wish Guy had played some trumpet. Towards the end, Paloma dedicated 'I'd Rather Be An Old Man's Sweetheart (than a young man's fool) to all the guys over 55 in the audience. I'm not quite there yet, though Guy, I notice, recently turned 56. Anyway, here's my review from tomorrow's Post.
Guy Barker, who played trumpet for the Clark Tracey quartet in the 80's, is now a world class arranger and band-leader. The musicians in his 42 piece orchestra, he tells us, grace soundtracks from Potter to Bond and play with every superstar imaginable.
What a treat they are. They open at full pelt with Benny Goodman's Sing Sing Sing (With A Swing), giving it a distinct Henry Mancini feel. The luscious opening half hour, replete with a medley cum overture, finishes all too quickly.
'Guest' singer Paloma Faith enters like a diva, in a long shimmering, silver and white dress with a white feather hat above her strikingly orange hair. She performs like one too, striking poses and complaining when the lights pick out her drinking from an unstylish mug between numbers. But her speech about 'real' music and how unusual it is for an artist like her to tour with an orchestra makes a strong point.
When You're Gone gets the crowd clapping along. Bettye Lavette's Let You Down Easy goes down a storm. She tells us she's a blagger, and, good as her voice is, there are more distinctive, stronger singers. Faith can sound brittle and shrill at the higher end but knows how to give a big performance.
The standards set is unexpectedly brief. Love Me Or Leave Me works better than Wild Is The Wind. The 90 minute show's highlight is an affecting Just Be, at the end of which Faith slumps onto the conductor's podium.
The encore takes things up another notch. On Candi Staton's I'd Rather Be An Older Man's Sweetheart she's drowned out by the magnificent orchestra. Picking Up The Pieces and Freedom follow. The orchestra play on after she's left the stage. For me, they were the real stars of the evening.