Glasvegas, Rock City Basement, October 6th, 2013 (Nottingham Post)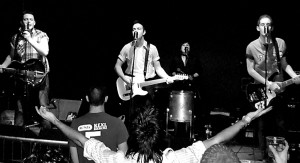 Glasvegas first headlined Rock City over four years ago, on the NME tour. Their Phil Spector meets The Jesus and Mary Chain sound saw them on the verge of being huge.
But it was third on the bill Florence and the Machine who went on to headline arenas. Glasvegas made an underwhelming second album and had personnel changes. Tonight, promoting a strong third album, When The TV Screen Turns To Static, they have everything to prove.
Lead singer James Allan has lost the shades and is a more relaxed, if still often unintelligible stage presence. New drummer Jonna Löfgren wears the raybans instead and the basement's brick wall backdrop suits the group. With Löfgren  standing to play, they look like the Velvet Underground fronted by Joe Strummer.
The new album's title track goes down a storm. By the third number, first album favourite It's My Own Cheating Heart That Makes Me Cry, the crowd are in full singalong mode. It's fair to say that Glasvegas attract rabid fans. The middle of the set has too much of the second album for my tastes, but things pick up with Geraldine, after which Allan plays a splendid solo version of Flowers and Football Tops.
The new I'd Rather Be Dead (Than Be With You), which you can listen to below, sees Löfgren on keyboards and leads into their anthem, Daddy's Gone, affecting as ever and ecstatically received. Lots Sometimes closes the 90 minute set. No encore, just some of Finished Sympathy on tape to see us out.