Bobby Womack at Liverpool Philharmonic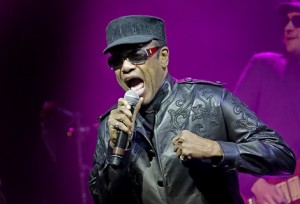 The legends of my youth are in their sixties or seventies now. Happily, I've seen most of them, often more than once. As regular readers of this blog will know, I go to a lot of gigs. But there are still a few soul giants I've never had the chance to see. According to our Scouse taxi driver this morning, Al Green's voice is shot, so I've left that too late. I'll probably never get to see Aretha Franklin either. Marvin Gaye died too young. Did get to see Millie Jackson twice in her hey day. Diana Ross. Tick. Smokey Robinson was an unexpected delight. After his recent bout of cancer and talk of Alzheimers, though, I thought there was no chance of seeing Bobby Womack, whose music I've loved for the best part of forty years. When we read that he was doing two nights in the UK, the show at The Philharmonic in Liverpool was already virtually sold out. But we got very lucky (the person responsible for that luck has been profusely thanked) and landed two seats in a box directly in front of the stage.
I grew up near Liverpool. Went to all of my early gigs there, at the Empire Theatre and The Stadium. Odd to get off the train and find myself walking by the side of the Empire. There was the stage door where I used to queue to get autographs (The Pink Floyd! Jeff Beck!) after a show. Never saw a music event at the Phil though, unless you count a tribute to Adrian Henri around the turn of the century, when George Melly and The Scaffold appeared amongst the assembled poets (breakfast at The Adelphi the next morning was a Who's Who of UK poetry). So I didn't realise what fantastic acoustics the hall has.
Bobby looked frail when he came on. The red leather jumpsuit he's sported recently has gone, replaced with the black leather look and cap he favoured in the 70's, see the photo above, linked from the Liverpool Echo. Indeed, he was more or less carried on stage by his assistant, Arthur, who dresses as a valet. But when he started singing Across 110th Street it was clear that Bobby's voice was more than intact. It was as good as ever, with a richness and range that no other soul singer can equal. At one point, as if to make the point, he sang a long snatch of pastiche What's Going On era Marvin Gaye before doing a tribute to Sam Cooke, whose widow he married, an act that briefly derailed his career.
No setlist could cover all the songs you might want to hear and I'd've liked more from The Poet albums and the recent, Damon Albarn produced, The Bravest Man In The Universe (from which he only played the title track). But we did get an awful lot of the songs we'd come to hear, including Harry Hippie, a wonderful Woman's Got To Have It, I Wish He Didn't Trust Me So Much, You're Welcome, Stop On By and If You Think You're Lonely Now. Fantastic band, with a killer brass section and bass player, three terrific backing singers, including Altrinna Greyson and his daughter GineRe.
Although the voice was strong throughout, the body was frail. Halfway through, he had to be held up and supported, even while half sitting in a high chair. We bumped into saxophonist Charle Green when we returned to our hotel and he told us that Bobby's blood sugar levels had dropped dramatically (he's a diabetic). His obvious discomfort, combined with the power and emotion with which he continued to sing, made the second half of the show incredibly moving. By the end, Altrinna and Arthur were trying to take him off stage early, but he wouldn't have it, performing a belting finale of No Matter How High I Get (the next line is 'I'll still be looking up to you') that had me in tears.
The audience were starting to leave (the other people in our box had all gone) when Arthur announced Bobby's return to the stage and, held up on stage right, he performed a lovely, brief gospel encore, (Jesus Be A Fence Around Me,  I think). We had turned to leave, when, suddenly, we heard Bobby's voice again, urging his musicians to play. They wandered on and picked up a song. There was Bobby, just visible if we stood at the side of our raised box, singing from the wings, a silhouette in the stage door, giving us a final gospel song (probably Deeper Love). We left the show ecstatic but emotionally drained. A minute later, they had to clear the building because there was some kind of an alert. It was that kind of a night. I only have the song posted below on a 7″ single that I can't convert but this live version, recorded at a Sydney show last year, gives a taste of what we saw. Womack made an album in the 80's called The Last Soul Man. Last night, a few weeks' shy of his 70th birthday, it felt like that was what he is. Thanks, Bobby.