De La Soul, Rock City, Nottingham, August 7th 2014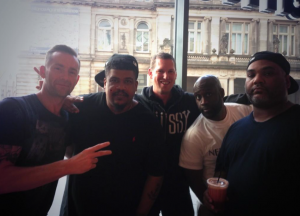 When I got to Rock City last night, I realised I'd dropped my pen, so had to write the review from memory, hence lack of detailed setlist or report on the artiste's mid-set quips. Maybe the review's the better for it. What follows is as it appears in The Nottingham Post, whose photographer was ill, so didn't make it. But @sheldonmiller on Twitter happened to bump into the band in Wagamama, round the corner from Rock City, just before the show, so I've nicked his shot. That's him in the middle. Dunno who the guy on the left is.
De La Soul's hip-hop masterpiece Three Feet High And Rising is, astonishingly, 25 years old, and still sounds fresher than most new releases. Subsequent albums sold progressively less but their first three albums retain their status as influential classics. Earlier this year, they gave away their entire back catalogue on MP3. A new album, You're Welcome, has been announced, but not scheduled. However a free mix tape, Smell The DA.I.S.Y. was available digitally this year, and showed them in strong form.
Tonight's show is a rare treat for Nottingham hip-hop fans, following on from Public Enemy's recent return. The group still have their original, well preserved line-up, Posdnuos, Dave and Maseo, and they still have some of their original fans. A larger number of the very mixed, mostly young crowed were doubtless drawn in by their legendary status, boosted by 2006's big hit, in collaboration with Damon Albarn's Gorillaz, Feel Good Inc.
This is their second UK visit of the year and follows headliner at Y Not and Kendal Calling. De La Soul were never a political band. There's plenty of psychedelic imagery associated with them, but their lyrics don't rely on drug references or other stuff that's liable to date. They're more about character, beats and humour. Lots of good humour.
Maseo takes the stage just after eight and performs a lively soundcheck to Otis Redding's Try A Little Tenderness. He then introduces his protege, the endlessly namechecked rapper, Bill Ray, who knows how to work a crowd and doesn't outstay his welcome. Fifteen minutes in, Dave (baseball cap askew, whereas Maseo wears his back to front) and Posdnuos (shaved head 'Real New Yorker' T-shirt) join him on stage. They remind us that it's 25 years since Three Feet High and Rising, then the party starts.
Potholes In My Lawn is an early highlight. They're consummate performers, generating a great vibe from the start, playing the exuberant crowd with ease. The stuff where they divide the crowd into two halves and get them to compete with each other is a soul cliche that long predates hip-hop, but they get away with it. When Maseo leaves his deck and laptop at the rear of the stage, the vibe goes up a notch. They play the title track of Stakes are High and numbers from Buhloone Mind State, De La Soul Is Dead and one from Smell The DA.I.S.Y. Then, 45 minutes in, things go to another level with Me, Myself and I.
The set is surprisingly light on samples. No snatches of Hall and Oates. The big test of hip-hop shows is if a listener who doesn't know the lyrics by heart can make out the words. As usual, about half of the time, it's very hard to do that. But the crowd are happy to wave their arms whenever asked. The hugely likeable group save Ring, Ring, Ring and Three Is The Magic Number for the encore, ensuring that their 75 minute set ends on a mighty high.
De La Soul – Ring Ring Ring (Ha Ha Hey)