Madness, Nottingham Arena, Dec 4, 2014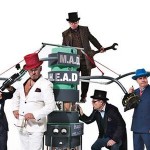 A very slightly extended version of my review for the Nottingham Post.
This is the opening night of the 'All For The M.A.D.H.E.A.D.' tour, which Madness warmed up for with a weekender at the seaside town of Minehead. Despite their London roots, the seaside feels like Madness's natural home. These are songs made to be pounded out on a pier, or played through a dubious sound system on a fairground ride (though tonight, happily, the arena sound is superb). They're the quintessential English working class band, with shades of The Beatles and The Kinks.
Support comes from Scouting For Girls, doubtless brought on board to please those accompanying their parents. I arrive in time for a cover of Wings' Live and Let Die, presumably aimed at those parents. Sung horrendously out of tune, it goes down like the proverbial lead balloon. Things pick up with catchy number one This Ain't A Love Song. Then they announce their last number, yet play three more, climaxing with pleasant, poppy debut She's So Lovely.
Madness have been together for 32 years (not including the six years they took off from '86-'92). Recently, trumpeter Chas Smash left to pursue a solo career. Two saxophones mirror the video backdrop and meet in the middle of the stage. They're closely followed by the rest of the nine piece group and Madness launch into Night Boat To Cairo. An appropriate opener, given that a good third of the crowd sport red 'Ali Baba' fezes. The band charge into Embarrassment, which sounds as good as when it came out. Shut Up works a treat.
The first half of the show follows a rough pattern of hit followed by lesser known song. A fine My Girl, for instance, is followed by recent My Girl 2. A lovely The Sun and The Rain leads into the promising new The Last Rag and Bone Man. That they're still writing new songs is key to this group's longevity. You never feel like they're going through the motions. The light show and use of video is top class throughout.
Hits get more frequent. After Los Palmas Seven, Suggs says 'Let's Go Back In Time' and we're into their exuberant tribute to the ska star who gave them their name, The Prince. Shut Up is splendid. The only bum note comes at the hour mark, when the guitarist is given the stage to play Highway To Hell. It goes down about as well as Live and Let Die did.
There's no room for melancholy masterpieces like Tomorrow's Just Another (Grey) Day, Yesterday's Men or Michael Caine. All numbers they did last time I saw them, in the final phase of their first incarnation, on 1986's Red Wedge tour (in support of Neil Kinnock's Labour party). Pity, but this is Christmas: House of Fun and Wings of A Dove make for one big party. Baggy Trousers is even better, their signature song Our House transcendent. A corking It Must Be Love brings the main set to a close.
Then they're back with that original nutty sound: One Step Beyond and, of course, Prince Buster classic, Madness, as much fun as when I first saw them play Nottingham, 35 years ago (at UoN's Portland Building, on a double bill with the now forgotten Merton Parkas). A loving cover of Papa's Got A Brand New PigBag and they're gone. Long may they run.  Full setlist.