Rumer, Nottingham Albert Hall, February 28th, 2015.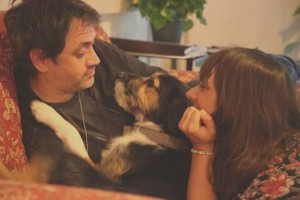 I don't put all of my Nottingham Post reviews on here and, when I do, I generally don't extend them much, but I was only given 300 words for Rumer last night, and felt like writing a bit more today, so here it is.
Rumer has by far the best ballad voice in modern pop, a worthy successor to Dusty Springfield and Karen Carpenter. I've seen her four times, the first a casino showcase the week her debut album came out. The second, headlining Nottingham's Royal Concert Hall, maybe a little before she was ready to, and, lastly, it was a pleasure to see her reformed band Stereo Venus open for St Etienne at Sheffield's Leadmill in 2012. A lot's changed since Rumer played the RCH in 2011. She's found a new partner (see photo), released that rare thing, a terrific covers album, Boys Don't Cry and, recently, Into Colour, her second album of original songs.
'Happiness writes white', Philip Larkin wrote. Some found the new album less impressive than her melancholy debut, the voice as perfect as ever but the songs less memorable. All I can say it that, tonight, new numbers like Dangerous, Reach Out and , particularly, Sam, more than hold their own at the centre of the set, alongside early hit, Aretha.
Last time, with one album out, half the set consisted of covers that Rumer didn't end up recording: Carole King's Being At War With Each Other, Elton John's Rocket Man, Gil Scott Heron's Lady Day and John Coltrane, Laura Nyro's American Dove, Joni's Free Man In Paris and Stephen Bishop's Little Italy. Only the relatively obscure Travelin' Boy ended up on Boys Don't Cry. This time, she's much more confident and relaxed. Covers, however, are thin on the ground, despite Boys Don't Cry and a 2nd compilation (of B sides and rarities) on sale tonight. Pity, as she's a fantastic interpreter, with a voice ideally suited to Bacharach/David and Jimmy Webb, whose P.F. Sloan is a highlight. I'd have liked to hear more songs from Boys Don't Cry, particularly Welcome Back, Flyin' Shoes and Home Thoughts From Abroad.
Tonight's terrific band are led by arranger and fiancé Rob Shirakbari on guitar and piano. A backing singer has flu, but guitarist Darren Hodson steps in, more than competently duetting on Hall and Oates' I Can't Go For That (No Can Do), which she peformed on Live From Daryl's House but couldn't get permission to include on her tour only rarities comp. The musically complex Pizza and Pinball describes her boyfriend's youth. Then we're into Seasons of the Soul, with Saving Grace, Blackbird and, for the first encore, Thankful, just her and Rob's piano. Exquisite.
I say 'encore' but they stay on stage, having nowhere to escape to. It's an odd venue, the Albert Hall, with decent acoustics but nobody monitoring the crowd, so that an idiot on the raised section stage right with a bright camera light is allowed to distract the audience and singer for long periods. Rumer is very chatty, at times almost ingratiating. You don't ask Nottingham people whether they love living in Nottingham – public demonstrations of love aren't in the city's character. So, in reply, she gets call outs from people who've travelled distances to see her: 'Liverpool!' North Allerton!' At another point she tries to have a conversation with a guy two thirds of the way back, who has to repeat his mildly embarrassing comment four times before she can make out what he's saying. But, hey, with a voice that perfect and a band that good, she can get away with most anything.
Many of the crowd don't recognise the upbeat final number, Todd Rundgren's classic, Love is the Answer, another great song she hasn't recorded, but it has Mike and I punching the air: fantastic song. 84 minutes and it's over. Rumer has to walk the full length of the side of the packed hall, sliding past patrons to get out. Sadly, quite a lot of people leave before the band finish playing. Maybe they're rushing to the signing table. The three of us wander over for a chat with Rob Shirakbari as he's packing up. He's pleased that  Mike and I recognised and loved Love Is The Answer (bit of an odd final choice, as most of the crowd had no idea what it was, but she clearly wanted to go out on something upbeat) and points out that Rumer now has more than enough songs to play a similar length set of completely different numbers the following night. But there's no next night, as this was the last date on a tour that's found her singing better than ever. She's also established a devoted following which, one suspects, will stick with her.
Wouldn't it be great if Rumer were guest singer when Burt Bacharach visits Nottingham in July? Not impossible. The guest's not been announced yet and, before joining Rumer, her fiancé was Burt's musical director.
Here's a bonus stream of Rumer singing another Bacharach song from the same EP, the one she named the dog in the picture above after: