Dawn of the Unread: Shelves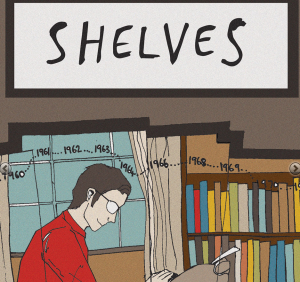 Dawn of the Unread is an interactive graphic novel aimed at celebrating Nottingham's literary heritage and encouraging literacy in the city's schools. There have been thirteen issues so far, each eight pages long, featuring such diverse authors as Alan Sillitoe, Mary Howitt and DH Lawrence, along with even more diverse writers, from Michael Eaton to Nicola Monagahan and Alison Moore to Al Needham. Artists have included Brick, who I've often collaborated with and the brilliant Eddie ('From Hell') Campbell.
The fourteenth comes out this weekend. It's online now, with a couple of embeds still to be added. I wrote it, and Ella Joyce, daughter of author Graham Joyce – who was going to write one of the stories before his untimely death – has illustrated it. Brilliantly. Regular readers won't be surprised to find that I've written about Stanley Middleton, the Booker Prize winning author who was also a neighbour and close friend. But I shied away from this at first, thinking I'd said enough about him already. I wanted to write about some of the more obscure writers who've passed through or lived in Nottingham, like Philip Callow, who Stanley introduced me to, or Dorothy Whipple, or even Cecil Roberts.
Who? Roberts has a room named after him at the city library, but to find out more, you'll have to read my story, which turned out to be mainly about Stanley, but also about the fleeting nature of literary reputations and how Nottingham's authors support each other. A fitting theme, given that I'm chairing the city's bid to become a UNESCO city of literature (my speech launching the bid is one of the embeds).
Oh yes, the embeds. At first, reading the earlier stories, I didn't notice the little buttons with stars in the middle, but each links to an essay or feature, written at all sorts of levels. Shelves has more than most: a terrific one by my old friend John Lucas (we became friends while editing Stanley Middleton at 80, seventeen years ago) about six of Stanley's novels that were recently reissued. There's a lovely piece by Ella's mum, Sue Joyce, all about Graham. There's a brief guide to Bromley House library (which features in the story) by Elaine Aldred. And there are a few bits by me: one about the Booker, another about Stanley's art, a memoir about our friendship and a discussion of the bookshelves that appear at the end of the story. I've also done an interview about the comic for the Dawn of the Unread blog, here.
I'm very proud to be part of Dawn of the Unread, which is edited by James Walker and put together online by Paul Fillingham. It was James' excellent idea to put Ella and I together. There's a video interview with her at the end of the piece, filmed by NTU students, in which you'll learn that she's only 18 and about to study Fine Art at Ruskin College, Oxford. I know her dad would have been very proud of both this and her work on Shelves.
Stanley wasn't averse to comics himself. He was a modest man, but I hope he would have been chuffed by Shelves. There is one bit of artistic license in the cover image, by the way: he always paid someone else to do his typing. He never learnt to drive either. Read Shelves here.