ALVVAYS – Rescue Rooms, September 3, 2015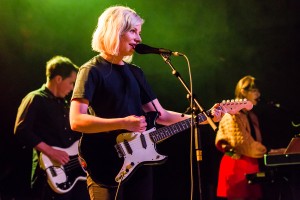 'Was that the sound of an exploding amp?' Perky lead singer Molly Rankin asks, two numbers into the show. Thankfully, it isn't, and the band launch into their breakthrough song, Next of Kin, with its jingle-jangle intro and incredibly catchy chorus.
This young Toronto five piece have a name that sounds Scandinavian, but Alvvays is pronounced 'always'. Their songs sound a little Scandinavian too, a slight accent suggesting that English isn't their first language. Not necessarily a bad thing.
Their sound is hard to pin down. Some songs are droney, a little tuneless, but full of energy. Others sound like pop classics. There are elements of bands who peaked before they were born: Belly, 10,000 Maniacs, The Sundays. Most of all, they remind me of a more recent Scottish band, Camera Obscura, especially when the set climaxes with their biggest number, Archie, Marry Me, to a rapturous reception.
The main set has eleven numbers. Seven are from their promising, self-titled debut album, a college radio number one, including a lovely Ones Who Love You and the yearning Party Police. We're told that bassist Brian Murphy is the only remaining single member of the band. He's nineteen, likes to cook and 'will agree with anything you say'. Yes, Alvvays are eager to please, and Rankin is a fun front-woman, with riffs on The Trip To Jerusalem and hedgehogs.
This is their second Nottingham visit of the year and many in the crowd have followed them from the Bodega Social, including the Post's Shaun Gordon, who took the photo above. We get four new songs that sound punchier than the first album. For the encore, best of all, is a lovely cover of Kirsty McColl's 1985 pop classic, He's On The Beach. A catchy portent of thing to come, perhaps, concluding a splendid 50 minute set. Catch them on the way up.
Next of Kin – Alvvays
He's On The Beach – Kirsty MacColl