Richard Thompson, Royal Concert Hall, Nottingham 12.9.15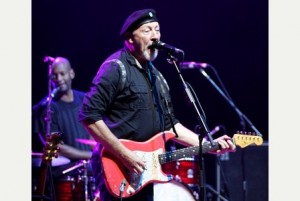 For RT geeks, here's an extended version of my review in the Nottingham Post, whose Kevin Cooper took the photo above.
He's our greatest living guitarist and one of our very finest songwriters, yet it's easy to take Richard Thompson for granted. He tours most years, puts out strong albums as frequently and never charges a fortune for tickets. Last year I travelled to Buxton, where he did a terrific solo show in support of Acoustic Classics at the intimate Opera House – it's a long while since Nottingham got an acoustic show. Strong new album, Still, has a title that mocks this consistency. The audience arrives never knowing quite what to expect.
The first three snappy songs, All Buttoned Up, Sally B and Broken Doll act as throat clearing, then it's into a favourite from the Richard and Linda years, the guilt ridden For Shame Of Doing Wrong, with the first solo of the evening. After a tight Hard On Me, an acoustic section begins with two from the Fairport Convention era: a lovely Genesis Hall. Then 'um, um… oh, why not?' and it's a gorgeous Meet On The Ledge, a lament for lost loved ones that only becomes more poignant the older you get. And, of course, he plays the crowd's favourite, 1952 Vincent Black Lightning. It's a great song, but I do wish he'd revisit some of the equally good ones from the '90s, like King of Bohemia or, even better, The Ghost Of You Walks.
A lovely new Beatnik Walking and old chestnut Al Bowlly's In Heaven bring back his electric trio. They're augmented by guitar tech Bobby for the playful new Guitar Heroes, where RT shows off the technique of a handful of his 'fifty or more' heroes, like Hank Marvin and Les Paul, using just one guitar with occasional effect pedal. A terrific Did She Jump Or Was She Pushed goes into Never Gonna Give It Up. A rousing Wall of Death and an epic version of the recent When Love Whispers Your Name conclude the ninety minute main set.
This band has been together for a few years. Michael Jerome on drums can handle anything Thompson throws at him, while, with Davey Faragher on bass, he shares the same kind of rapport he had with Danny Thompson. Even so, Davey's a little thrown by the first encore. Richard has to shout the chords. Can it be? Yes, it's a brilliant Calvary Cross, from the breakthrough I Want To See The Bright Lights Tonight. Things conclude, as they used to for many years, with 1986's Tear Stained Letter and a second standing ovation.
Odd, I was thinking, that he didn't play the best song on the new album, but I later discover that he has yet to do it on this tour. Anyway, the show isn't over. Here he is with the live debut of the gorgeous album opener. She Never Could Resist A Winding Road is a companion piece to his classic Beeswing. Then, another new song I'd been hoping for, Fork In The Road, a corking, catchy rocker that only buyers of Still's bonus Variations EP will know. The two go well together and it's a great set closer. He's normally finished by now, yet doesn't leave the stage. 'There might be more' he says, and issues instructions to Michael and Davey. He finishes with a potent, bluesy new song, or maybe it's an obscure cover. The title may be something like 'Walking the floor, thinking of you'. It had a soulful, rockabilly feel but it wasn't the Ernest Tubb song that he covered with Sandy Denny. Whatever it was, it brought a brilliant end to a three-song-encore that transformed a really good show into a great one. Come back soon.
Post script. Last night, at the Cambridge Corn Exchange, RT played the same final encore sequence (the whole show was similar, but shorter & missed both 'Genesis Hall' & 'Calvary Cross). soledriver, who recorded it kindly identified the final encore: The Sorrows' 1965 hit 'Take A Heart'. So, below, find MP3s of the original and RT's cover of it from last night. Great stuff.
Take A Heart (Sorrows cover) – Richard Thompson
She Never Could Resist A Winding Road – Richard Thompson
Fork In The Road – Richard Thompson