Bone and Cane: the playlist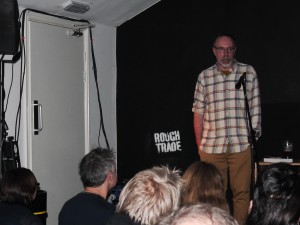 A belated thanks to everybody who came to my book launch at Rough Trade last week. Great to see so many old (and new) friends, but it was a very sad night for me, as my oldest, dearest friend, Mike Russell, had died earlier in the day, after a long illness. We shared a passion – some would say obsession – with popular music and went to many, many gigs together. We were meant to be at two in the week before he died: this one and this one. Two days before the onset of his final decline, he stood throughout a raucous Libertines show at Rock City, which he enjoyed enormously. That was our last show together.
The Saturday before last, at the Northern General in Sheffield, I showed Mike the playlist for the launch, for his approval. The first half is songs generally connected with or featured in the Bone and Cane sequence, while the second half is of songs played at a party in the book, as 1998 becomes 1999. The evening before he died, Mike was taken home with round the clock nursing care, thanks to the NHS and Macmillan Cancer Support. It meant a lot to Mike and his mum, Jean, that he could die at home. Many people at the launch made a donation to Macmillan at Rough Trade, for which, heartfelt thanks. We'll remember Mike, and play some of his favourite music, at a service in St Mary's Church, where he was christened, in Handsworth, Sheffield, where I was born, and we met, as babies, in 1958. 2pm, November 9th.
Here's the playlist, for those who couldn't be there. And the Van Morrison song that I named the book after. Thanks to Rough Trade – a great venue – for hosting the launch, especially Sam for managing the music as well as the bar.
1. Elvis Costello & the Attractions – Beyond Belief
2. The Auteurs – After Murder Park
3. The Young Fathers – Shame
4. Madonna – Cherish
5. The Beat – The Limits We Set
6. Nils Lofgren – It's Not A Crime
7. The Lemonheads – My Drug Buddy
8. Sleaford Mods – Tied Up In Notts
9. Captain Beefheart & his Magic Band – Moonlight in Vermont
10. John Martyn – I'd Rather Be The Devil
11. Van Morrison – The Great Deception
12. Madonna – Like A Virgin
13. Curtis Mayfield – Move On Up
14. Junior Murvin – Police and Thieves
15. The Clash – London Calling
16. The Jam – A Town Called Malice
17. Pulp – Common People
18. Kid Creole & the Coconuts – Annie, I'm Not Your Daddy
19. Michael Jackson – Smooth Criminal
20. Dexy's Midnight Runners – There, There, My Dear
21. Prince – 1999