Garry Tallent, Kevin Montgomery & thoughts on Election Night: The Glee Club, Nottingham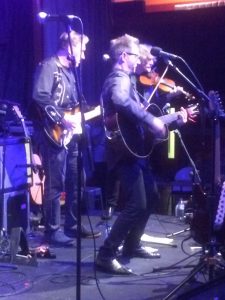 This is an extended version of the review that appeared in Saturday's Nottingham Post with a few added comments about the election.
Quite a coup for Glee and promoters Cosmic American Music to get Bruce Springsteen's bass player on election night. Tallent is the only remaining original member of the E Street Band (unless you count the boss himself). A youthful 67, Garry might seem old to be launching a solo career, but Bruce isn't touring. And no expense is spared. The Tennessee Terror has brought along renowned singer/songwriter Kevin Montgomery to open for him. Montgomery, whose dad used to partner Buddy Holly, pays tribute to Holly with 'Heartbeat' (especially touching for my companion, who used to write for the series) and a lovely 'Flower of my Heart'. He does a nice Bruce cover, too, the relatively unknown 'I Wish I Were Blind',  but it's his own songs that shine most. Close your eyes and you could be listening to early Eagles ballads.
Unlike Montgomery, Garry Tallent doesn't have a great voice, but he has a terrific, six-piece band. Particularly guitarist Eddie Angel, a veteran with craggy good looks that could see him cast in Twin Peaks. We get an instrumental before Garry takes the stage with 'Bayou Love'. That title tells you a lot about what to expect: rockabilly with an occasional Cajun bent. Accordion and violin feature. The album's called Break Time and that's what Garry's on: a break. He's having fun with old friends, including Christy Rose on occasional vocals. Songs have titles like 'Ants in Your Pants' and 'Ooh La La'. Lightweight, yes, but none of the songs drag on and the band's enthusiasm is infectious.
I have to confess that my mood for the evening was greatly lifted when I popped to the loo at ten and turned my phone on. I've been a bit of a nay-sayer re Labour's electoral prospects under Corbyn. However, he had a brilliant campaign, while May was worse than anybody could have possibly imagined. Even so, she seemed bound to win and inflict untold further damage on the country. Instead, the exit poll said it looked like we were heading for a hung parliament, which is how it turned out. And Corbyn, a man who never wanted to be party leader, much less PM, is now poised for one more push. Good luck to him. And us. Pity that my own vote had to go to the odious Chris Leslie, a lightweight lickspittle imposed on Nottingham East by Gordon Brown, whose leadership election campaign he had run. Instead of keeping quiet in the wake of the result, or eating his words as so many others (and I) have done, Leslie went on the Today Programme to say that Corbyn's victory wasn't good enough. He seemed to think that his own, massively increased majority was a personal one. Clive Lewis today described him as a 'sad, lonely, bitter man' and I won't add to that, except to say that I hope I won't be asked to vote for him again. To face his constituency party after this he'd have to be more brass necked than the PM. And with that, back to the gig and the present tense…
Both Montgomery and Tallent make play of being in a comedy club, telling jokes, sending themselves up. Tallent, too, does a Buddy Holly song. He tells good stories about working with people like Duane Eddy and Robert Gordon. He does two songs he wrote with Southside Johnny. He also pays tribute to Chuck Berry (with a strong pastiche and a shout out for Chuck's last album) and Levon Helm, whose Band number 'Move To Japan' closes the main set.
The highlights of the evening, for me, are three instrumentals. Mid-set we get a terrific version of The Shadows' Apache and The Ventures' Walk Don't Run, both featuring Eddy Angel to great effect. For the third and final encore of the hour fifty show, they pull out a number they've not done before, but pull off to perfection: The Tornados' 'Telstar'. Wonderful.
Everybody's Girl – Kevin Montgomery
Telstar – The Tornados