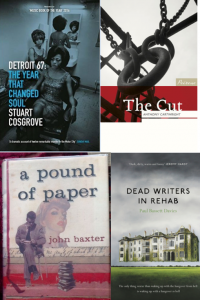 Stuart Cosgrove's 2016 Detroit 67: the year that changed soul is primarily about Motown (the label was based in Detroit until 72) and, as such, complements Nelson George's classic history of Motown, Where Did Our Love Go? the rise and fall of the Motown sound. Like that book, there's a lot about The Supremes (this was the year that Florence Ballard left the group). There's also plenty about my favourite Motown group, The Temptations, although, curiously, he doesn't mention that the classic five line-up recorded and released one of the (possibly the) best Motown live albums that year, Temptations Live! Another odd omission is that, according to the introductory essay in the 1967 box of the Complete Motown Singles (my companion listening while reading this), Motown had a sales convention in Detroit that year, as riots broke out. The riots are discussed at great length, but the convention isn't mentioned. Minor carps, for this is a gripping, informative read which weaves in a great deal of social history, especially where it interacts with the music scene (for instance, John Sinclair and the MC5 were kicking out the jams motherfuckers! in Detroit at the time). Highly recommended.
Anthony Cartwright's new The Cut is a fascinating, beautifully written, commissioned novella that takes an oblique look at Brexit via two starkly contrasting characters, Grace and Cairo. It's a great read and has one of those endings that requires you to reread the beginning (or maybe the whole, short book). Cartwright's Black Country is as compellingly drawn as ever and this one, if not his best (try Heartland first) will undoubtedly add to his ever-growing reputation.
The other novel I finished, Tony and Susan, was twenty-odd years old and had been retitled in the light of the success of the film based on it, Tom Ford's Nocturnal Animals, which is the name of the novel within the novel by Austin Wright. The film very closely followed the book within the book, which is sparsely written, tightly plotted and uncomfortable to read/watch. The 'real' sections are longer and somewhat different – it's rather easier to write about someone reading a novel in a book as against a movie. A modern classic, maybe. I'll certainly be checking out more by Austin Wright.
Finally, I devoured a book about book collecting, by the redoubtable author and film critic John Baxter. Critic Ian Penman put me onto the out of print A Pound of Paper, because of the stuff in it about collecting Graham Greene first editions, which I do, in a small way. Funnily enough, I had a good chat with the singer/songwriter John Murry after his terrific Rough Trade instore at the weekend. He's also a bit of a Greene collector, and had enjoyed Baxter's book. Even if you're not, Baxter has loads of great stories about living in London, LA, Paris and elsewhere, the legendary book scout (and guitarist) Martin Stone, and much more. So thanks for the recommendation, Ian.
It was only a short break so, a pile of New Yorkers apart, that was my poolside reading, except for a novel by scriptwriter Paul Bassett Davies which I started reading on my Kindle on the plane and am now 2/3 of the way through. At first I thought it was rubbish (sorry, Scott). It's undoubtedly uneven, but if I read fifty pages of a book, I always finish it. Moreover, I still need to know how this odd novel (which the publisher sent me for free) turns out. It's called Dead Writers in Rehab and the narrators include Ernest Hemingway, F Scott Fitzgerald, Dorothy Parker, Wilkie Collins, Hunter S Thompson and… eh, Doctor Watson, plus a couple of equally fictional contemporaries. Some are voiced rather more successfully than others, but it is, undeniably, a fun read (update: until you reach the last 10%, which is, frankly, dire). Oh, and John Murry's second album, A Short History of Decay (named, he told me, after this book) is terrific. Here's a cheerful little number from it.