ABC/KID CREOLE & THE COCONUTS – NOTTINGHAM ROYAL CENTRE, 12/11/17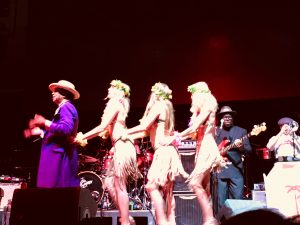 'It's been a while since we passed through these parts,' Kid Creole points out. 'How many of you were here in 82? Your age is showing.'
Two of the Coconuts weren't born when he played Rock City. August Darnell, 67, looks ten years younger, and still sports a natty purple zoot suit, with frequent change of hat.
The band take the stage at full throttle, pumping through a strong Stoolpigeon, a terrific I'm A Wonderful Thing, Baby ('this is from my egotistical years') among others. The brilliant Annie, I'm Not Your Daddy (which does a bit of crucial foreshadowing in my most recent novel) is the highlight.
The Coconuts, in their Hawaiian skirts, are as flirtatiously entertaining as the 82 incarnation. The six piece band are great. No wonder virtually the whole audience is there for the 7.30 start and quite a few dance in the aisles. Support act of the year.
ABC were also at their peak in 82 but never played Rock City. They've made up for that with three visits in recent years. It's only a year since their exhilarating Lexicon of Love orchestral show.  This final gig of their greatest hits tour was added late. It's a more relaxed affair than the orchestral event. That said, there's plenty for fans to enjoy.
The set is carefully structured. Four numbers from Lexicon of Love Two are mixed with smaller hits and one new song during the first hour. There's a great rendition of the rarely performed Be Near Me, their biggest US hit.
The video for 1987's King Without a Crown (it got to number 44 – no, I didn't remember it either) plays on the screen, intercut with the present show. It's one of several video reminders that 80s fashion hasn't lasted well. Great to hear Beauty Stab's That Was Then But This is Now powerfully performed. Obviously, there isn't room for all of their more minor hits, and S.O.S. is sadly absent.
The big Lexicon songs are saved for last. The set closes with Tears are Not Enough and All of My Heart. Poison Arrow and The Look of Love bring the whole crowd to their feet. Splendid, although as a commentator on the Post website (where a shorter version of this review appeared) said, anyone following Kid Creole is bound to feel a little flat. Kudos to Martin Fry, however, for treating us to such a great double bill. We had great seats, and Sue took the photos above. We were both at the 1982 Rock City gig, though we didn't know each other then.
Kid Creole & the Cocounts – Annie, I'm Not Your Daddy