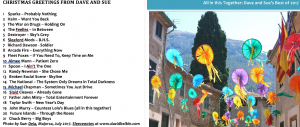 This year, the pile of CDs I wanted to include a track from but didn't have room for was higher than the ones included. I had to compile 2017's CD early, which means no individual sleevenotes or MP3s beyond the final three tracks this year. It also meant that the Neil Young, Morrissey, Sharon Jones and Bjork CDs weren't out in time (Sue, who has a veto, hates Morrissey, but Bjork is on her Christmas list). One late release, Taylor Swift, edged out The XX (I couldn't resist following Father John Misty's TS reference with the best track from her new album). Other artists I would have liked to include are Bedouine, Nadia Reid, Laura Marling, Young Fathers, James Vincent McMorrow, David Rawlings, Feist, Juana Molina, Todd Rundgren with Donald Fagen, Public Service Broadcasting, Sampha, Bob Dylan, Mark Eitzel, Jason Isbell & the 400 Unit, LCD Soundsystem, Robert Plant, Natalie Merchant, Tinariwen, Lana Del Rey, Alvvays, Songhoy Blues, Kendrick Lamar, Courtney Marie Andrews, Kurt Vile with Courtney Barnett (been a good year for Courtneys) and – especially – Mavis Staples. A CD's worth, easily. I used to do a part two for home consumption. Indeed, I know of people who do three disc annual compilations, but I've always been of the 'more is less' persuasion. Editing is the art.
2017 starts with Sparks, whose Hippopotamus is great fun: the first of theirs I've listened to extensively. I average a gig a week or more, but these days most of them, inevitably, feature people I've seen before. Not Sparks, though, and they were terrific at Rock City. Catchy, beach-pop in the Fleetwood Mac vein from Haim, then one of my albums of the year, by War on Drugs, keeping up the ridiculously high standards of the last two. A welcome return from The Feelies, whose two comeback albums are as good as the records I fell for in the 80s (and check out my non-fiction book of the year, Graham Caveney's memoir The Boy With the Perpetual Nervousness, named after a Feelies song). Destroyer's Ken finds them on the same startling form as their last two, while Sleaford Mods' 'BHS' was the highlight of their Rough Trade album launch back in March, one of three times I've seen them this year. Still the band that defines our age, they killed it at Rock City on their tour finale, too.
Didn't see all of the Mods' set at Green Man, as they overlapped with pj harvey, who I hadn't seen since 2004. The highlight of my favourite festival was the amazing set by Richard Dawson with an array of backing singers and musicians. Peasant is the album on which I fully got what he's about. 'Solider' even more than 'BHS', is the marmite track on this year's cd. Some will hate it, others grow to love it. Arcade Fire's Everything Now is a patchy album, even more so than the double that preceded it, but the title track is gloriously catchy and has a timely lyric. I would have liked to include one of the longer tracks from the wonderful comeback album by Fleet Foxes, but couldn't justify an eight minute song. Crack-up is a marvellous, multi-layered thing, which deserved more plaudits.
Aimee Mann's Mental Illness also finds her on top form, in deliberate 70s MOR mode, with a ridiculously catchy song about the actor Andrew Garfield. Spoon continue to be Spoon, the most Beatlesy band who don't sound like a Beatles pastiche (a nod here to my other big non-fiction read this year, though it's a couple of years old, Mark Lewishon's outstanding, absorbing, authorative, Tune In, which takes the Beatles up to the end of 1962). Randy Newman's Dark Material doesn't flow as well as most of his albums but has plenty of strong songs. This is one of two (the other is an old one, Wandering Boy) that doesn't use irony.
Broken Social Scene are a collective that don't make albums often but when they do, can blow you away. Hugs of Thunder is, some have said, the album that Arcade Fire ought to have made, if they were braver. In my experience, artists do what they have to do. This is as uplifting and energetic as BSS's best work. The National's new album marks a solid return to form after Trouble Will Find Me found them coasting on previous styles. It pushes them into new areas musically and lyrically. This is the song that most got stuck into my head but more keep coming through, just as they did on the album I first fell for, Alligator.
I've been following Michael Chapman for more than a decade now, since we got talking after a party to celebrate a Cosmic American Music Club anniversary. Dunno how I missed his stuff before since he's been a name since the late 60's (he gave Mick Ronson his break). In the US, he's a legend, feted by people like Lucinda Williams, Thurston Moore etc. At home, less so, but his fiftieth album, 50, is terrific and has, belatedly, had the reviews and attention it deserves. I've seen him twice this year, in terrific form at Green Man and in Nottingham's The Running Horse this month. This song was a highlight both times.
Father John Misty's latest was memorably described as like Elton John singing below the line comments on a Guardian blog. Pure Comedy isn't as memorable as his falling in love album I Love You, Honeybear but is funny and endearing. The song satirises people who fantasise about Taylor Swift, who's new to me. On the strength of this song, I think she might have a future. Fun fact, she's named after James Taylor and once duetted on 'Fire and Rain' with him.
I could go on and on about John Murry, whose debut, The Graceless Age, was my favourite album of 2013. This year's A Short History of Decay is terrific, too. This song was a highlight of the instore he played at Rough Trade earlier this year. Only sorry I couldn't make his tour when it stopped at Leicester in September, but Sue had an operation this year. Lovely guy, too, and, as I discovered, a bit of a bibliomaniac. I can relate to that. We also talked about Warren Zevon, clearly an influence on John's songs. His songs are equally world weary, but not as cynical.
The title of the compilation links that song and the next one. Future Islands divide people (it's the singer's performing style, and his voice) and can feel a little samey on record. But live, at Green Man, they were tremendous and Samuel Herring is an incredible front man, full of passion. A life affirming song and show.
This year, we lost Chuck Berry, at 90. You can argue the ins and outs of who invented rock'n'roll but, for me, Chuck Berry was everything. No Beatles or Stones without Chuck, certainly no Dylan without Chuck's lyrics. His final album came out a few weeks after he passed, and this is the most characteristic song on it. Hail, hail, rock'n'roll.
John Murry – Countess Lola's Blues (All in This Together)
Future Islands – Through the Roses