Nicholas Hytner's Julius Caesar at The Bridge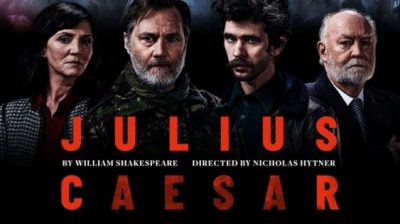 I have a confession to make. Even though, after Hamlet, it's probably my favourite Shakespeare play, I'd never seen Julius Caesar on the stage before last weekend. I studied it for A level. Large parts of it have stuck with me, not least because A levels coincided with my political awakening (I briefly joined the Young Liberals, who, in my neck of the woods, were a small cabal of anarchists. I also got involved in the referendum to join the EU). So why did I miss it? Well, I went to a working class comprehensive that never organised theatre trips (though we did have one daytrip to London, where I bought my first Nick Drake LP, and they put on a Gilbert and Sullivan every year). But that's little excuse. My partner's seen it five times, the same number of times I've seen Hamlet. I suppose it's because it hasn't been done in Nottingham in the forty years I've lived here and I've never seen a production that I fancied enough to travel. Until now.
The available seats at the matinee of Nick Hytners first production at the flashy new Bridge Theatre (by London Bridge) were in the £95 range, more than I've ever paid for theatre tickets (I've only exceeded it twice for gig tickets). Otherwise I might not have considered the promenade tickets. Then I saw that they were only £25 each and realised that the play had been cut for two hours and played without an interval, so you'd only be standing for the length of an average gig. I later discovered that a few of my other theatre-addict friends had made the same calculation. Wisely.
The play's staged in the round with plenty of room to walk around. We got there twenty minutes early, as requested, and, as we wandered in and got out bearings, a band began to play punky anthems to warm up the mob. I stood back a bit, having been warned that there could be a fair bit of pushing and shoving from stage hands clearing the way for actors. This turned out to be nonsense. The only time I got jostled was a couple of minutes later, when someone pushed past me to get to the stage. I looked to see who it was and it was some bloke in a tracksuit top that read Mark Antony on the back. A moment later, David Morrissey jumped on stage and joined in with the band, establishing himself as a rabble rouser. After he left, the play proper began.
I don't intend to write a review full of production spoilers (here's The Stage's round-up of reviews, with links to the full versions), rather to interest you in going to see the play, the most visceral, exciting production I've seen in 50 years of Shakespeares (since a Primary School friend took me to see Macbeth in Birkenhead for his birthday treat and I learned you weren't allowed to eat boiled sweets with crinkly wrappers in proper theatres – it was a long while before I went again). From the arrival of David Calder, in red baseball cap, to the explosive battle scenes in the final act, the play was gripping and utterly contemporary. The outstanding Calder didn't portray Caesar as Trump (As a recent New York production mistakenly did – Caesar is far too intelligent to be Trump) but a charismatic demagogue. While Brutus's naive, idealistic, intellectual approach to politics has elements of Corbyn, this isn't stuff you think about while you're watching him make the fatal mistake of not having Mark Antony killed alongside Caesar. In the weekend of the Italian elections, it's a play that speaks to every country's politics yet remains utterly of itself. The gender neutral casting – with Michelle Fairley a taut Cassius and Adjoa Andoh a striking Casca – works fine.
If you can, up close is the way to see it. You have to move out about a bit because the set erupts at different points in front of you and you may need to change positions to see the actors (better than being in a seat, where you don't have the option), but so what? At one point, I leant against the stage only for Ben Whishaw to sit on the sofa two feet from me. He delivered a monologue so powerfully that I was barely conscious that most of the theatre could see my every reaction. Then I had to step back quickly. He'd moved a guitar to let a co-conspirator join him on the sofa and was putting it down where my hands were resting. Later, David Morrissey came over with a cheeky grin, pushing me and others aside to make way for his army to come through, then gestured us forward to him as he mounted his final attack on Brutus's forces. The war scenes, less than vital on the page, here worked brilliantly. Two hours shot by.
There's a National Theatre cinecast of the production later this month (not, sadly, on the Ides of March, but a week later, on the 22nd) which is decidely worth going to if you can't get to London before April 15th. There are 250 promenade tickets for every performance. After hearing us talking about it, my nephew and his girlfriend (who've never seen any Shakespeare on stage) decided to go, and we discovered that if you're under 26 you can join The Bridge for free and promenade for a mere £15 each. Tickets still available. Friends, students, countrymen, go!