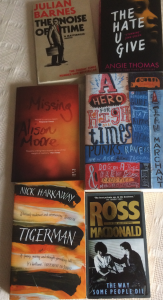 A week's break on a Greek island (escaping a kitchen refit) followed by a bank holiday weekend has meant that I could catch up on my reading, albeit with a stringent weight limit. And, unlike many of these blogs, where I read books I've saved up, most of the reading I did on Skiathos was guided by serendipity.
One of my Children's Literature student lent me The Hate You Give, which recently shared the Children's Book Award at the Nibbies with The Lost Words. This longish YA novel, inspired by Black Lives Matter (& Tupac's THUGLIFE tattoo) has won numerous other awards. I was a hundred pages in and polished off the rest of it on the flight and the following morning by the pool. This is proper YA fiction: by which I mean it's narrated by a sixteen year old, a black girl at a mainly white private school. She has a white boyfriend who she's sleeping with but little is made of this. The story (slight spoiler) concerns what happens when her childhood friend Raoul is shot dead by a white police officer. The dialogue is authentic and the structure solid. Now and then, the morality issues around racism and gun crime are a little too on the nose, the narrator rather too articulate and mature to be entirely convincing, but that's a perennial YA problem and barely a criticism: it's a great read and a deserving winner. Thanks for the loan, Liv.
I had a couple of non-fiction books I planned to take, but then my order of A Hero for High Times: A Younger Reader's Guide to the Beats, Hippies, Freaks, Punks, Ravers, New-Age Travellers and Dog-on-a-Rope Brew Crew Crusties of the British Isles, 1956–1994 came in at the library. It's a vast tome, and in demand, so I only have three weeks to read it. Not finished yet, and there are parts I'll skip (a lot of the background Ian Marchant gives for younger readers is, uh, over-familiar), but it was ideal for reading by the pool. I shall also be using it to escape from the kitchen fitters who currently occupy my house. Today's their one day off, which is why I have the leisure to write this. Basically, it's a history of the counter culture, based around interviews with a Zelig-like hippy who – in interviews sometimes conducted under a narcotic haze – claims to have been everywhere, met everyone and been the first person to… who cares if he gilds the lily from time to time (but, oh, come on, Saddam Hussein, really?). I can think of loads of people who will love it.
Talking of novels based on real lives, I'm not sure why I let Julian Barnes' The Noise of Time pass me by, but there it was in the hotel's left behind books library. It's a fictional life of Shostakovich, in beach friendly short sections, primarily concerned with how the composer managed a career under Lenin, Stalin and Khruschchev. As such, it follows on nicely from The Death of Stalin a graphic novel I read recently (the mostly faithful film is very good too). Barnes does this kind of thing very well. It's a fast, economical read, and possibly his best since Flaubert's Parrot, which in some ways it resembles. He's at his best as a short story writer and those skills are in display here.
Sue passed on Owen Sheers I Saw a Man (lousy title, would have been better as The Man on The Stair, a title I nearly used for a book called Dead Guilty, which, like, the Sheers' title, was inspired by William Hughes Mearns' poem, Antigonish). This was a decent, well written read, a kind of airport thriller about grief, but I found it rather over-constructed and often less than plausible. It was rather over-shadowed by the next novel I read, which was also the most recent, Alison Moore's Missing (bought from Five Leaves Bookshop when I went in to congratulate them on their Nibbie win for best Indy bookshop). One of her best, I think, it's also about absences. Moore uses a naïve, allusive style that lets in life's contradictions and uses telling, convincing details that bring her story to life. Her people feel real and are weird in convincing ways. This book moved me, and stayed with me.
My surprise read of the holiday was another piece of serendipity, one of a bunch of spare copies that Sandeep, director of our UNESCO City of Literature, offered round at our board meeting the day before I left. The publisher had sent it to us because we'd been trying to get the author for our Storysmash event. I'd never heard of Nick Harkaway, although he's published four novels, and it turns out that he's the son of a writer I love, but makes no play of this, so I won't go into that further. I was tempted by Tigerman because of the Graham Greene comparison on the cover (I've read all of Greene and reread most of them, too). The situation is Greeneish: minor official left to represent British interests on a poisoned island off Africa that the Brits have officially left and which is now dominated by lawless cartels. The story gets wilder and more satirical than Greene in most modes, making it nearer Our Man in Havana than The Heart of the Matter  or The Comedians. And it's also about a man who wants to be a father. A literary thriller, full of sharp writing, satisfying twists and with a strong ending. I'll be seeking out more Harkaway and so, maybe, should you.
Finally, a nod to John Harvey, whose Body and Soul I planned to take before deciding a 15KG baggage limit didn't allow hardbacks. He's said that Body and Soul will be his last novel, not least because he is being treated for prostate cancer. John is doing the March for Men next month to raise money for research into this disease and you can sponsor him here. Instead of his new novel, I took a tiny, second-hand paperback of one he recently recommended by a great noir writer that he introduced me to back in the early 80's, Ross Macdonald. It's called The Way Some People Die, which tells you a bit about John's sense of humour and a lot about his excellent taste. Macdonald is Chandleresque, less showy but just as well written, with convoluted plots that wind up making more sense than Chandler's. And there's more of them. I'm halfway through and already have another waiting for me at the library. All the best to John, whose eightieth birthday we look forward to celebrating in December.