Martin Simpson & Martin Taylor, Lakeside, Nottingham April 6th 2016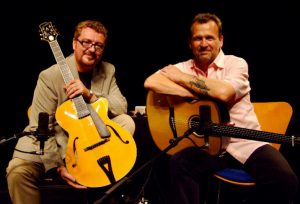 Not only has the Post stopped reviewing 'minor' gigs (ie anything smaller than Rock City) but most of the old reviews have gone from their website, so, in the summer doldrums, I'm going to post a few of the older reviews that I didn't get round to posting at the time, unaltered (bar the odd corrected typo). Call it vanity, if you like, but this website (one of the UK's first author blogs) is collected by the British Library's UK Web Archive which means that the posts won't disappear, and some may, in future, be of interest to fans of the artists reviewed. They're not in any particular order.
What happens when jazz meets folk? It's not a common crossover. Last time I saw jazz guitarist Martin Taylor, 59, he was with the late, great violinist, Stéphane Grapelli, occupying a role once held by Django Reinhardt. Tonight, he's performing with Scunthorpe's finest, Martin Simpson, 62, one of our very best folk singers and guitarists. It's an intriguing combination, and tonight's show is long sold out.
Taylor wears a suit and holds his guitar upright, jazz style. Simpson, in blue jeans and open necked shirt, hugs the guitar to his lap. They open with a laid back version of Cyndi Lauper's Time After Time, a good indication that the jazz part of the evening will veer towards easy listening. The men combine beautifully on Ginger, with haunting sustained feedback from Simpson. Taylor's solo slot includes his hero, Henry Mancini's, Two For The Road, Piaf's Hymn a L'amour and a bossa novaish take on the Carpenters' I Won't Last A Day Without You.
Both men are good raconteurs and Simpson sings with plenty of depth. His folk-blues solo set features the chilling story of the  Second World War raid on Slapton Beach in Dark Swift and Bright Swan and an account of visiting the Mississippi Delta in a Chevy 55 Bel Air. 'You Learn a lot from playing with other people,' he says, and the two Martins have a good rapport, best expressed in their looser second half. Simpson combines St James Infirmary and Dylan's Blind Willie McTell, explaining the roots of each. Then Taylor plays an improvised fill so lovely that Simpson briefly forgets the words.
Wild Mountain Thyme and Taylor's fun Down At Cocomo conclude the main set of this generous, two hour show by two fine guitarists who blend together surprisingly well.
Taylor and Simpson continue to play together, with shows advertised for this autumn.