Public Image, John Hiatt and George Clinton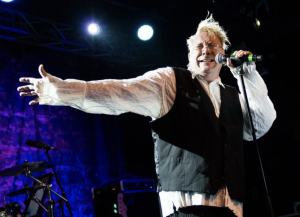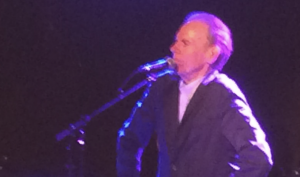 I was going to call this post 'Three Lions Gigs' but you can't do strikethroughs in headings on WordPress, so I've gone for basic info. The purpose of this post is mainly to archive my Public Image review for the Post, who also did a nice piece about the Sex Pistols trial in Nottingham. I was editor of the university newspaper at the time, so we reported on it (indeed, my then head of department defended the use of the word 'bollocks' in court) though I didn't attend. The Post had a good interview with Lydon too.
Useful for PiL that there was no football that night. The following Tuesday I went to Stamford Bridge for a thirty year delayed encounter with John Hiatt, who was playing all of his best album, Slow Turning. Back in 1988, my partner Sue and John Harvey – poets both – looked at the cover of this album, which I'd bought on the way back from work. They decided, before they listened to it, that they would jointly write a pamphlet of poems using its titles. The result was Sometime Other Than Now, which was the one title they both used. Good luck finding a copy, it goes for a small fortune. Oh, here's one.
The venue was great (apart from confiscating my water when I walked in, during a heatwave. 'What about my journey home?' I asked. 'You can buy water inside' I was told). And friends had saved me one of the few seats for the football match which preceded the gig, for which I was very grateful, having done a lot of walking earlier. However, when Columbia equalised and it went to extra time, Hiatt came on stage, determined to play his full set before the 11pm curfew. We thought England were doomed and Hiatt was so good that, halfway through the gig, when someone shouted 'yes!' it took a moment to realise what it must mean. 'You through?' the laconic Hiatt asked. 'Penalties?' And then he continued with the entirely terrific show. When I got home, not long after 2AM, I watched the extra time highlights and penalty shoot out before I went to bed.
I'm a huge fan of George Clinton's 70s work but delayed buying a ticket for his Nottingham show until I knew that England weren't playing that night. Though, as it turned out, the Brazil game was pretty compelling too. His big band started well and I was set up for a good soul revue. OK, Clinton wasn't singing much, but I've seen plenty of older singers, from Leonard Cohen to Andy Williams, and they need to warm up. However, pretty soon Clinton sat down. He stopped participating beyond waving his arms and urging us to do the same. The sound mix was dire, with virtually no bass (this, from a band that used to feature Bootsy Collins!). When two women sang, you could hardly hear them. Sue thought it was painful and left after half an hour. My mate Greg and I stuck it out for 75 minutes, when three consecutive generic rap songs tested our patience too far. By then, most of the atmosphere had drained from the room. Evidently they played for another 75 minutes, and some people claim to have loved it. I would have liked to hear him do One Nation Under A Groove, but something tells me that, even if I had, I'd've been disappointed.
'This is the town where I earned the right to use the word Bollocks', John Lydon announces  before launching into the exuberant show finale,
Rise. The hard core push to stage front and pogo energetically. Mid-floor, a fight breaks out in front of me. 'Anger is an energy,' Lydon sings. Indeed.
On a hot, football-free night, a comfortably full Rock City has come to celebrate Pil's 40th anniversary. 'This is a party tour,' Lydon tells us before opening with into 'Warrior.' His three piece band are intense, with crunchy yet melodic guitar, solid, thumping bass and fierce drums. Great dynamics. 'Memories' takes us back to their finest hour, Metal Box.
Lydon, in white shirt and black waistcoat, looks not so much like a punk so much as a mildly demented, bespectacled, Germanic conductor. There are several new songs for which he has to use a lyric book. To the far left of the stage a thin, smart, middle-aged man shuffles from foot to foot, regarding the audience, occasionally flicking back a strand of black hair from a high forehead. His only role, it appears, is to take away the lyric book at the end of the show.
Death Disco and This is Not a Love Song get powerful interpretations but, for me, the strongest number in the main set is Flowers of Romance, delivered with chilly intensity. This is a band who play with utter commitment and demand the audience's full attention.
The brawlers make up in the encore break, one getting the other water from the front. A fantastic, faithful version of debut hit Public Image, gets much of the floor joyously pogoing. An elongated Open Up, leading into Shoom, closes the show. Lydon introduces the band and we all say hello to his wife, Nora, at the back. A memorable party.
PiL photo by Laura Patterson for the Nottingham Post where the review above first appeared. One thing I learned from the PiL song below, though. Don't dive into the most pit when you're wearing sandals.
John Hiatt – Sometime Other Than Now