Rod Stewart – Nottingham Arena 23.6.16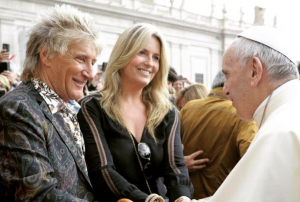 Another review that's dropped off the Nottingham Post website, my fourth (and probably final) time seeing the Pope of Rock (do they call him that?)
Newly knighted Sir Roderick Stewart's fourth visit to the arena comes in the midst of a short tour of parks and stadiums. He must like Nottingham. He's coming back to the Motorpoint in December to give us his From Gasoline Alley to Another Country: Hits tour. When was the last time a megastar played Nottingham twice in a year?
Tonight Gasoline Alley is performed by daughter Ruby Stewart and Alyssa Bonagura, who make up the enjoyable country support act Sisterhood. Ruby introduces 'The Rodfather'. He tells us it's a privilege to come indoors and be warm. Soon he's thanking everybody who nominated him for a knighthood.
Hard to believe that, 43 years after I first saw him with the Faces (and he'd been around a few years then) three songs he played at Liverpool Empire are still in his set: Maggie May and You Wear It Well, obviously. The latter gets a restart after the guitarist fluffs the intro. 'You're paid a lot of money', he's chided. Stay With Me is there, too, though no band but the Faces can do its shambolic funk justice. A highlight of the acoustic set is the poignant Ooh La La. Ronnie Lane's line I wish that I knew what I know now, when I was younger only take on greater resonance with the years.
Rod is 71 and his voice isn't what it was, but it's not that far off, either. He can still kick a football to the back half of the floor. And he still has us in the palm of his hand. He sits to give us a fine, slow version of Tom Waits's Downtown Train, then strolls into the crowed to shake hands.
Sadly, only one song remains from 2013's Time, which saw him return to songwriting, inspired by having explored old memories in 'Rod', his entertaining autobiography. Don't Stop Me Now goes down a storm, but Time's best songs, It's Over and Brighton Beach, are absent tonight, their place taken by 80s hits. The backdrop to Rhythm of my Heart does manage to feature a VE Day front page from the Nottingham Evening Post. 1978's Hot Legs is particularly strong.
Rod is primarily an interpreter. Sam Cooke's Having A Party kicks off.  Robert Palmer's Some Guys Have All The Luck follows it. Cat Stevens' First Cut Is The Deepest shines. Danny Whitten's I Don't Talk About It gets a strong rendition. His most popular cover, Sailing, closes the show.
Do Ya Think I'm Sexy, built on a riff by the late, great Bobby Womack, is the sole encore. A ridiculous question for a 71 year old to ask, but Rod has never been afraid of appearing a bit ridiculous. He puts on a cowboy hat and balloons drop from the roof. The curtain goes down, then goes back up a little to reveal the whole band prone on the stage floor, listening to balloons pop like gun-shots. Two hours have rushed by, but he'll be back for Christmas.
Rod Stewart – Can't Stop Me Now