From Sleaford Mods to Gallery 47. Big Gig Week & the All Night Bookshop launch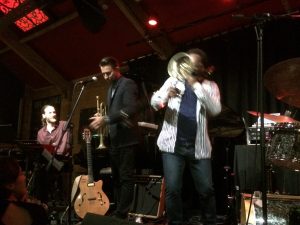 There always tends to be one week where the gigs pile up. Just did four in five days, Wednesday to Sunday. Would have made it five in six if I'd got to the great guitarist Michael Chapman at the Running Horse last night, but it was the first day of term and I was knackered. Suede (acoustic) were excellent at Rough Trade. On Friday, Trombonist Dennis Rollins was in terrific form with the house band at Nottingham's newest venue, the wonderful Peggy's Skylight, a jazz club I'm sure I'll be writing more about. Only been open a month and we've been three times: an inspiring, imaginative venture which, as Rollins pointed out, has no equivalent outside London.
Nick Mason's Saucerful of Secrets were stunningly good at the Royal Concert Hall on Saturday, playing early Floyd from Piper to Meddle. My nephew, Michael, and younger brother, Paul, were equally blown away. I didn't get the review slot on this, but Sean did a terrific job summing it all up in the Nottingham Post. I did review Sleaford Mods' RCH debut the following night. I'll paste in the piece from today's paper below. Often, I extend these pieces a little on the blog, but the Post gave me 500 words instead of the usual 300, so I won't. I still managed to go over, though it may be cut a bit for the paper.
Before that, a reminder about the blog below. I have a book launch at Five Leaves Bookshop on Saturday, national bookshop day, when I'll be reading from my Candlestick Press pamphlet, The All Night Bookshop, from 8.30-9.45pm. The pamphlet costs a mere fiver and, as well as my story, has great poems (which I got to choose) by Jim Burns and Jackie Kay. Jim will be giving a rare reading on the night, but Jackie is a bit busy as Scotland's Makar (poet laureate) so Sue Dymoke will read her poem, Silver Moon. This Thursday, Sue is launching her new collection in the same venue on National Poetry Day, from 7-8.30, with special guests Jonathan Taylor and Becky Cullen also reading. Should be a great night, and there are still places available for that, and for the reading the following Thursday with one of my favourite poets, Martin Stannard, Frances Presley (who I haven't seen read since 1990) and my colleague Andrew Taylor. 7-8.30. That one's three quid, still a bargain. You can book for all of these by emailing events@fiveleaves.co.uk or following the links in this paragraph.
Also, I'm pleased to announce that, after I used one of his songs in my last blog about the bookshop story, Candlestick got in touch with Gallery 47 and he's offered to play a few songs on Saturday night. He's my favourite Nottingham singer/songwriter, all of whose albums I recommend, so I'm very grateful and rather excited about the prospect of having him as part of my launch. Do come along. I'll put an extra song by him at the bottom of this post. Now, where was I? Oh yes, Sleaford Mods, who were in great form as ever, but somewhat ill at ease with the venue. I'm a big fan and did their first live review in the Post when they supported Scritti Politti six years ago (first time I heard them), but this is the only time I've written about them as a headliner and took care to make this fair rather than fawning. See what you think.
Sleaford Mods are taking a risk. After headlining Rock City several times, they're at the Royal Concert Hall. Upstairs isn't sold out. They played Rock City for a tenner back in January (for homeless charity, Framework). Hardly surprising if a few folk sit out this £30 a ticket show.
Two months ago, on facebook, singer/lyricist Jason Williamson wrote:
'It's been brought to my attention by a couple of keyboard dickheads that our show at the Concert Hall this September was born out of a sense of newly gained elitism due to the continued success of our band…' He goes on to blame the backlash on resentment about his family having moved from Sherwood to Bread and Lard island. 'We've played five sold out gigs at Rock City and they were brilliant, unforgettable. But we thought we'd try somewhere else this time round. I know in lots of your eyes this is perhaps not appealing and I apologise for the disappointment…'
Tonight, then, the band have something to prove.
They make us wait. After sets by Kamur and the always invigorating Grey Hairs, the dynamic duo take the stage at half nine.
Sleaford Mods are two middle-aged blokes in T-shirts and tracky bottoms. A chilled, baseball capped Andrew Fearn boogies behind his laptop. Jason Williamson bestrides the stage like a preening neanderthal auditioning for the Ministry of Silly Walks. His vocals are reminiscent of John Lydon or Mark E Smith, though you'd never mistake them for anyone else's. The same goes for the music, rhythmic, edgy, with occasional shades of krautrock  and hiphop.
It takes a while to get into. Only the right hand side of the stalls stands, creating an odd dynamic. From the rear circle, the words aren't distinct enough to make out more than half, a pity in this venue. Even so, the opening new songs Flipside and Subtraction promise well for the future. Stick in a Five and Go is excellent, as are Moptop and Just Like We Do.
During TCR a blonde in a black bra flashes the circle, then throws herself around empty seats. Ten minutes later, as people get sick of their view being blocked, security kicks her out. Before leaving, she showers the people who complained with the rest of her beer. Nottingham, eh?
Hometown gigs are odd for any band. Nobody's a hero in their hometown, nor should want to be. Numerous guest-listers and people who're checking out the show because they can sit down don't help the atmosphere, which is never electric.
In the longest show I've seen them play (68 minutes) they take no chances with the setlist. They conclude with a thrilling BHS, a storming, harder arrangement of Jobseeker and, of course, Tied Up in Notts. Tarantula Deadly Cargo is a cracking closer.
Jason has some last words.
'I'm sorry if this was the wrong choice of venue for this year. Please support us. We are the Sleaford Mods.'
A little dance and he's gone, while Andrew photographs the crowd, taking a souvenir of a visit that'll almost certainly be a one-off.