Ian McKellen at 80 – 25.6.19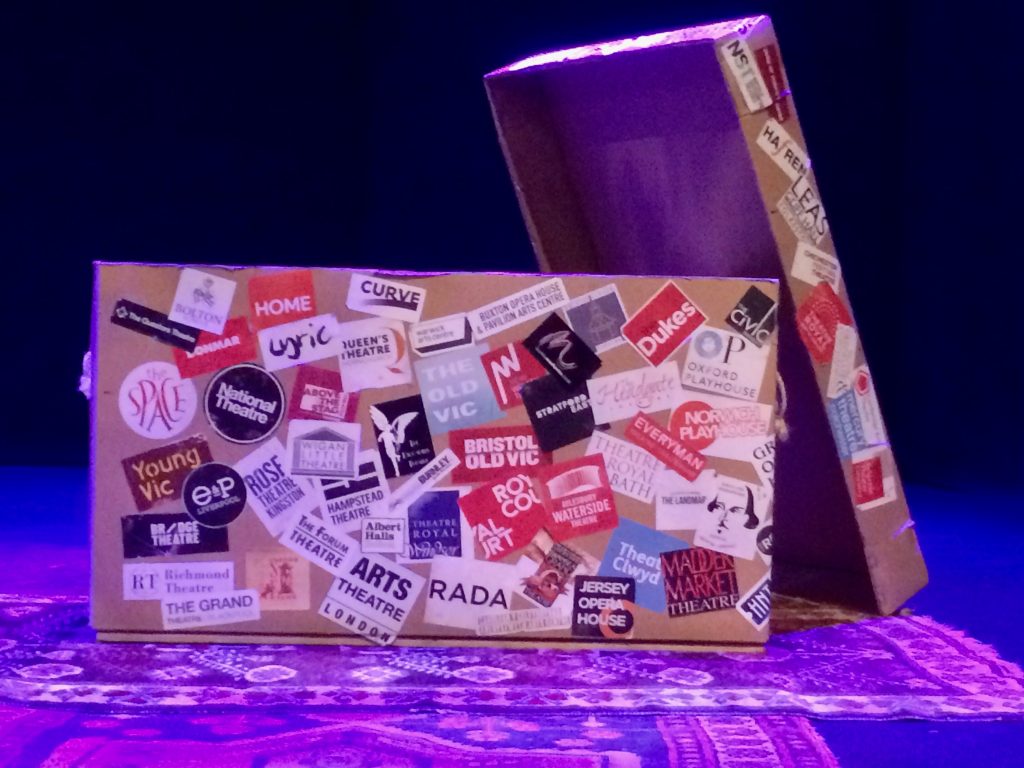 This is an extended version of a review I wrote for the Nottingham Post for the paper published on July 27th, 2019.
A month ago, Sir Ian turned 80. To celebrate, the Burnley-born actor began a tour of British theatres from his long career. 80 dates at 80 is no mean feat (he's just added 80 more in the West End), but there's a kicker. He isn't making a penny. All proceeds go to the charities of the theatres he's performing in.
Sir Ian's two nights here will net £50,000 for the Playhouse Shine and 50:50 appeals, bringing in young people who, as Sir Ian points out, would otherwise not be able to come and widening the theatre's participation work. If you think that kind of generosity guarantees him a good review, well, you'd be right.
Over at the Concert Hall, Nick Cave is talking about his career and singing a few songs. It's the new thing. Will Sir Ian throw in a turn or two? You bet. He opens with a stirring performance of a key scene in Lord of the Rings (don't ask for more info – I haven't read it since I was 19 and the films weren't for me: I was hoping for more on his stint in Coronation Street).
The large packing case pictured above turns out to be full of props and will feature throughout. Out first, a table and Gandalf's sword, Glamdring, which he invites a teenage audience member on stage to play with. Later, he will produce a piano from the case. 'The Piano' is a poem from DH Lawrence's very fat volume of collected poems – 'all those poems from a novelist' – which he gives a beautiful reading of.
Sir Ian, of course, appeared in this building's opening night in 1963, performing extracts before royalty (though Princess Margaret was ill and didn't attend). 'The Beatles were playing the Odeon down the road that night.' Leo McKern sang 'She Loves You' backstage. Lawrence Olivier had just launched the National Theatre in a borrowed Old Vic theatre but, 'that night we were the national theatre of Great Britain.'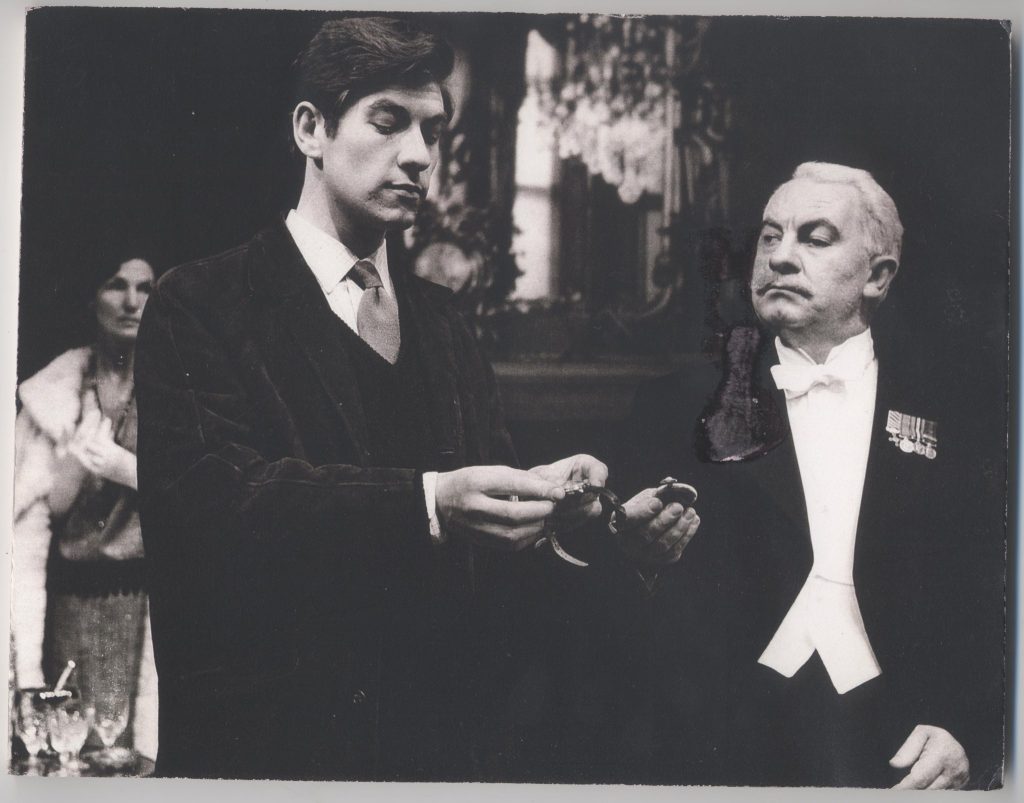 McKellen went on to play Arthur Seaton in Saturday Night and Sunday Morning. We don't get any of that tonight, but do get his Widow Twankey (a copy of the day's Nottingham Post in her bag), Gus the Theatre Cat, a Hopkins poem and a bunch of anecdotes from school and Cambridge, with lots about his long-time ally, co-star and sort of rival, Derek Jacobi. The first half, which takes us through his early theatre career, lasts 85 minutes. It doesn't flag in the slightest and it's worth noting that the direction was by Sean Mathias, who directed Sir Ian in a fantastic version of my favourite modern play, Pinter's No Man's Land, which I saw at Sheffield Crucible just over three years ago. That was followed by an aftershow discussion with the stars, McKellen and Patrick Stewart, a flavour of which can be gathered by watching this video of the three men in conversation on US TV.

The second half is all Shakespeare (and I mean all – there's a bit on every single play with several splendid extempore performances). Audience participation draws out plenty of humour and good gossip (don't act with Alan Badel – he'll give you notes). A moving finale, drawn from Macbeth and The Tempest, shows McKellen at his best and draws a full standing ovation. A Nottingham Playhouse sticker is added to the top of the packing case, which features again. A brief, surprisingly topical encore and the generous three hours is over. A hit, a very palpable hit.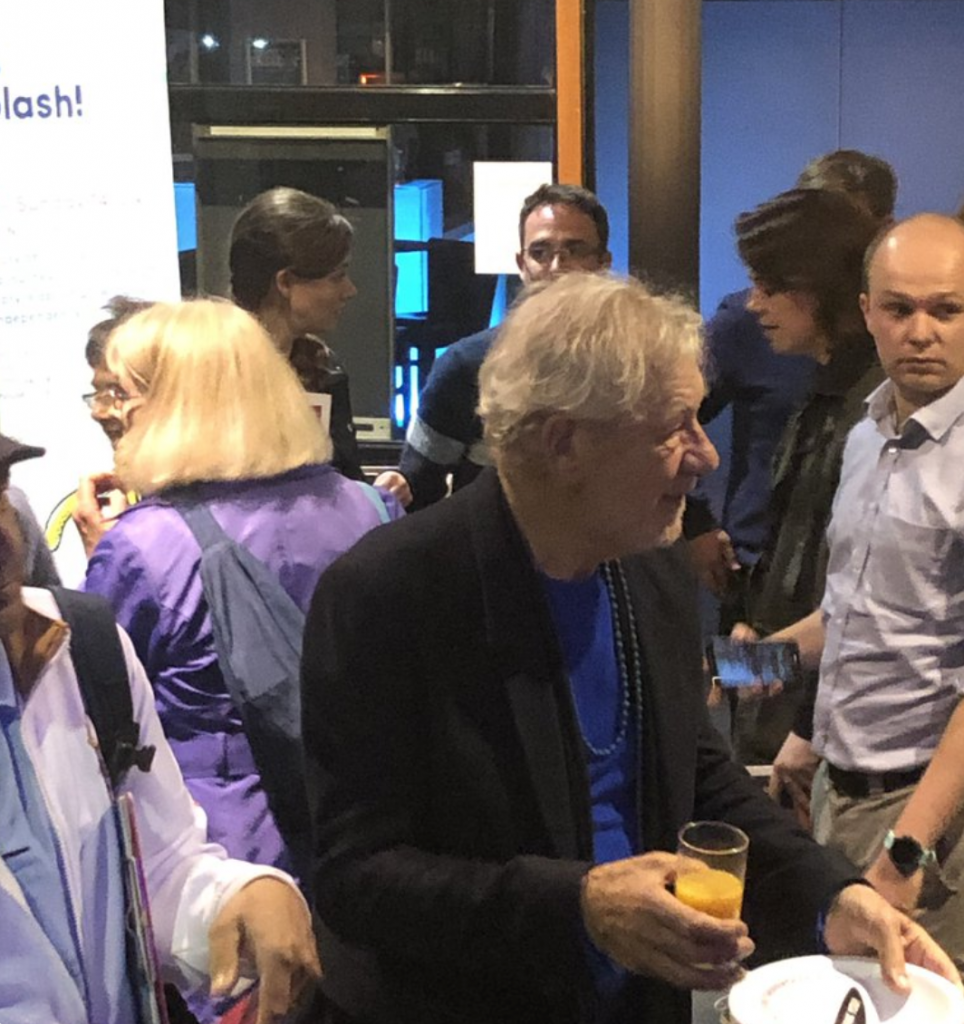 Afterwards, Sir Ian led the bucket collection to raise even more money and (I believe, because I had to hurry home to do my review) signed autographs in the box office to a massive queue of people. Deep respect.