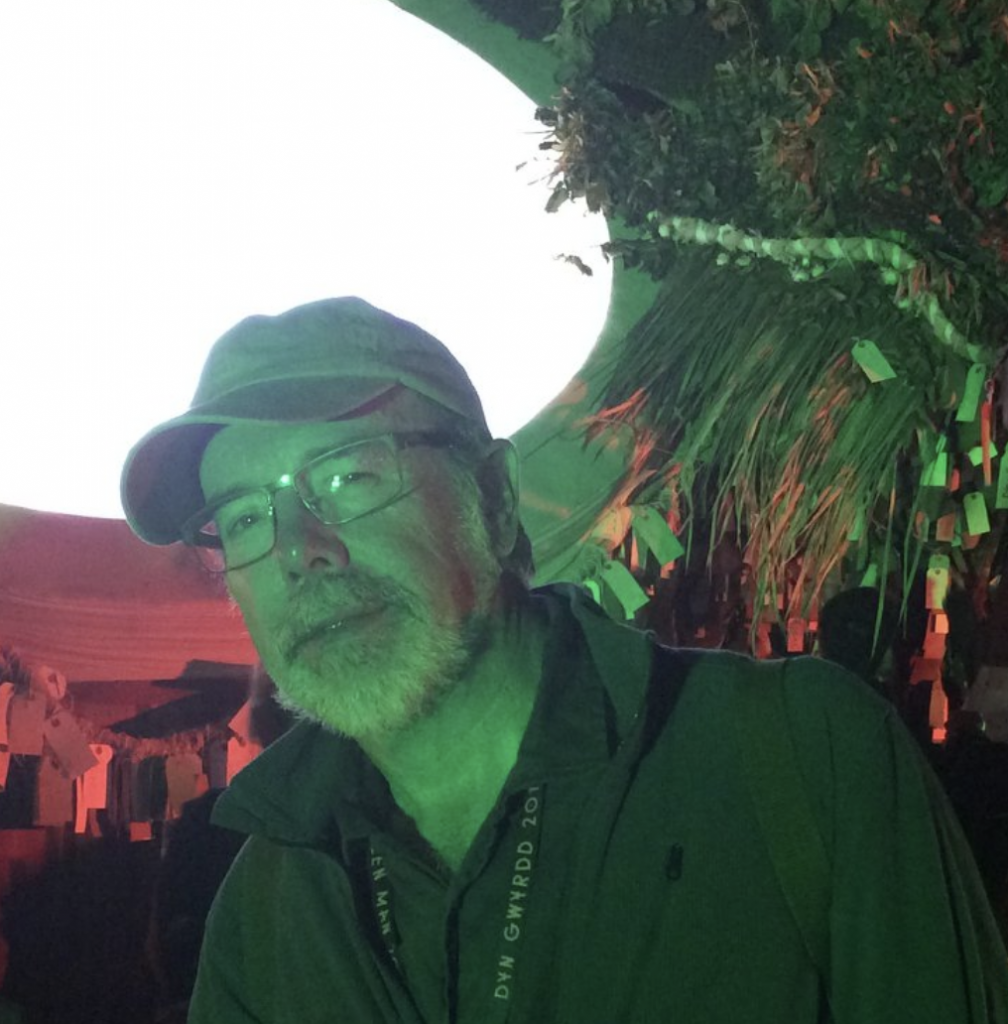 That's me above, in front of the Green Man which is ceremonially burned to mark the end of the Green Man festival in the Brecon Beacons, which I first went to in 2013, when I decided it was better than Glastonbury. I've been for the last three years in a row, which is a record for me.
This year, the forecast was bad. While I located a good pitch in our usual area (I'd holidayed in Abergavenny beforehand but the rest of the gang were driving over from Nottingham) there's not a lot you can do about a day of heavy rain when you've only got a 'festival quality' tent.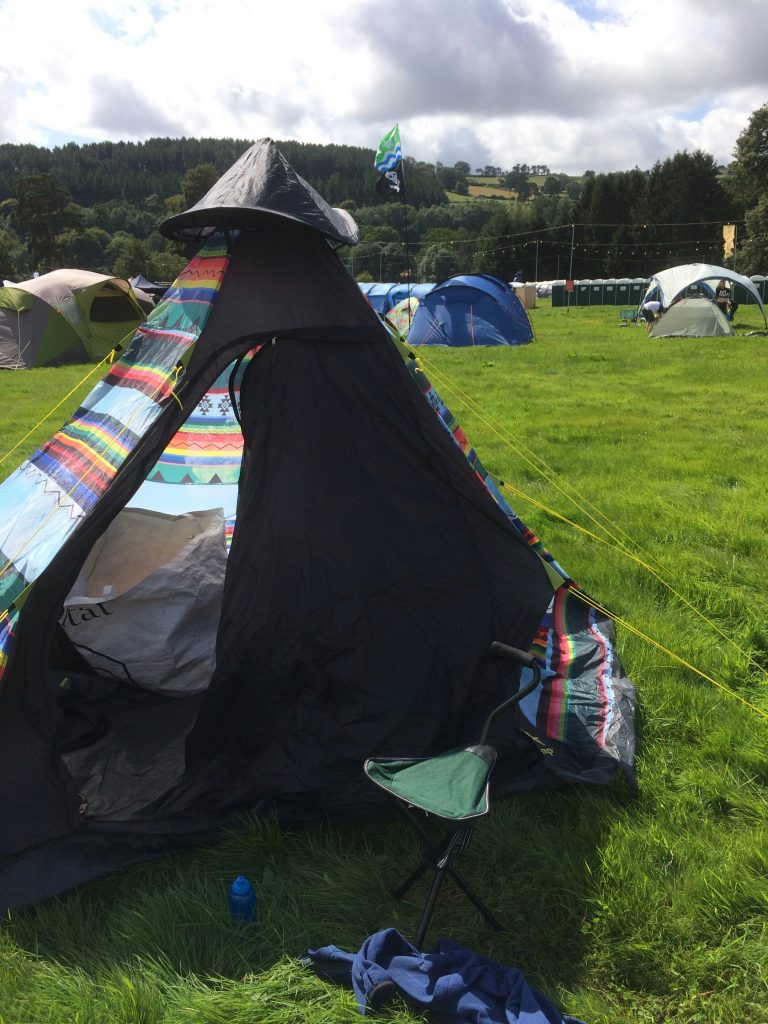 I bought the one pictured above for GM 2017 and it's served me well so far. However, on returning to it at one thirty on Friday evening, I found rivers of water running across the ground sheet, destroying all cardboard and penetrating my bag to soak half my clothes (but the books were safe). Luckily my sleeping bag was on top of the inflatable mattress which, I later discovered, had its own hidden lagoon beneath. But hey, I sluiced it out sufficiently that by the time my compadres returned just after two, I was able to get a reasonable night's sleep. The shooting stick pictured in front of the tent cost my partner £3 in Oxfam and proved a most useful present in the muddy days to come.
The next two days were windy – good drying weather – and hardly rained at all. Green Man handles mud better than Glastonbury and has much better beer (it is also a charity, supporting numerous good causes of a green bent). There were seven of us in our camp, with tea and a much appreciated hot breakfast every day. I also often ran into three friends who are Glastonbury regulars and recent converts, My phone was dying, so I hardly took any photos, but I doubt I've ever seen a better festival closing gig than Father John Misty since Bowie at Glasto 2000 (OK, maybe the Blur reunion at Glasto 2009), Aldous Harding was brilliant: theatrical and mesmerising. Julia Jacklin was really good. I stood on the rails with the uber-fans for a terrific early evening Eels set. Richard Thompson was in fine form on Saturday night, a wonderful setlist. Four Tet and Yo La Tango both delivered. Unexpected delights included Korean surf band Say Sue Me, Bodega, Amadou and Mariam, Bill Ryder-Jones (even better than at the Bodega earlier this year), Avi Buffalo, a good interview with Richard T and a spoken word performance by Jarvis Cocker (that's him djing at a not so secret tent gig below).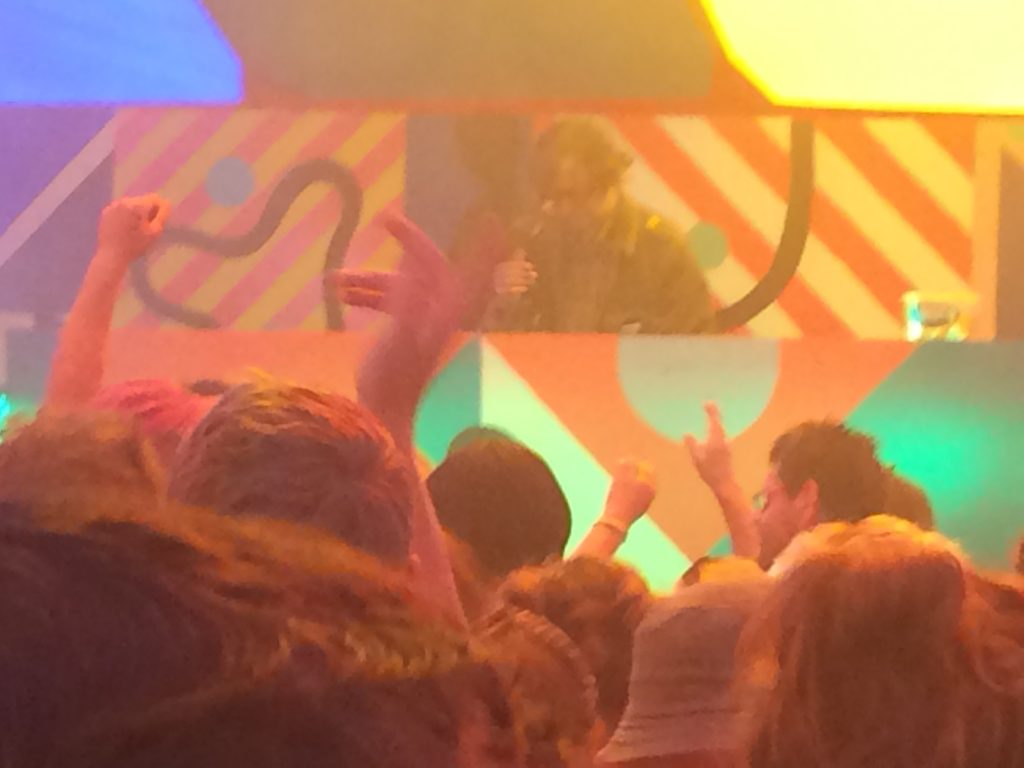 There was also the lovely Bridget St John, who I first saw in 1976. On Frida she was accompanied by cellist Sarah Smout, and this was the other set I stood at the bar for. (I do wish she'd play more of her own songs, though – she sticks to the same few, including covers rather than all her own stuff. Would have been wonderful, for instance, to hear Jumblequeen's 'Want to be With You' in the driving rain, with that opening verse 'When the rain sets in on Derbyshire the hill are lost to cloud, battered by a gale force wind that hits out hard, people run for shelter, waiting for the calm to come'. Honourable mentions to Bodega, Anais Mitchell & Mapache. Sorry to miss Ex:Re & Marika Hackman (so good at Rough Trade the previous Monday) + only catch the end of Whitney, but that's festivals & clashes were minimal. Green Man remains the best festival I've been to, bar none, no matter what the weather. This year's was my third in a row, a personal record.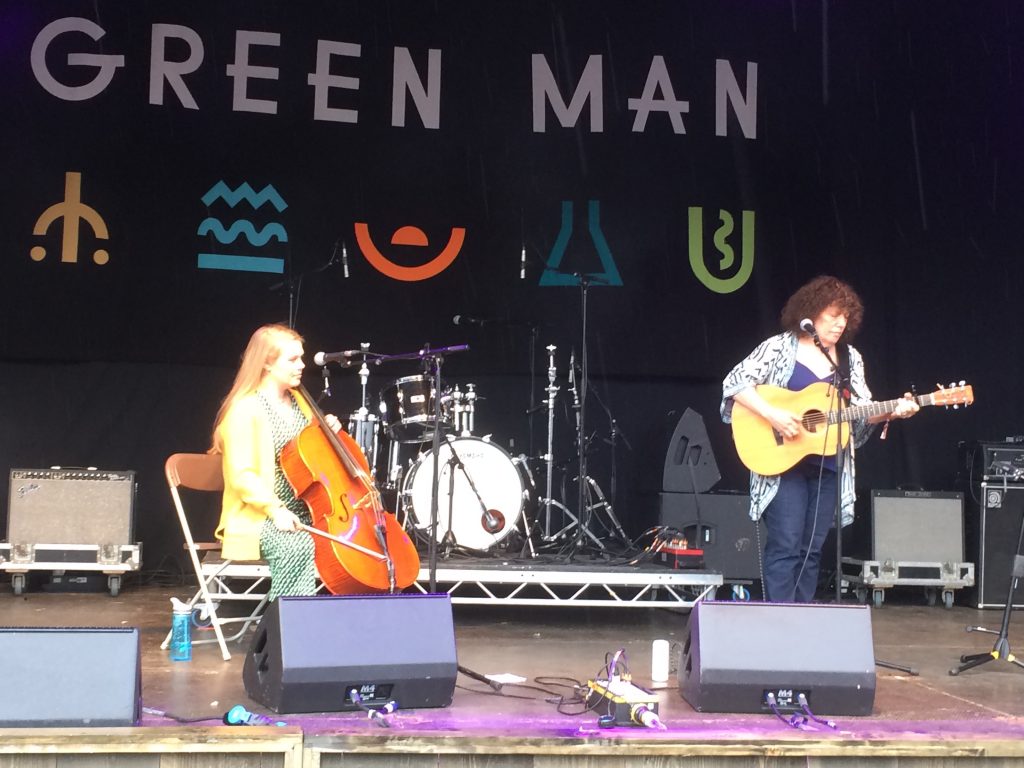 Last decade, my Glastonbury diaries were the most popular posts on this site. For those of you who've been around that long, you may recall my final photo from 2009 and be wondering about the state of the hat. Here it is yesterday morning, after dumping the rubbish & before the usual, conveniently speedy getaway. Maybe time to retire the hat, but I'll be back at Green Man. Thanks to everyone who organises it and to the Wardies for making it such a hospitable four days.