25 Years of the Creative Writing MA at NTU. Launch on October 23rd.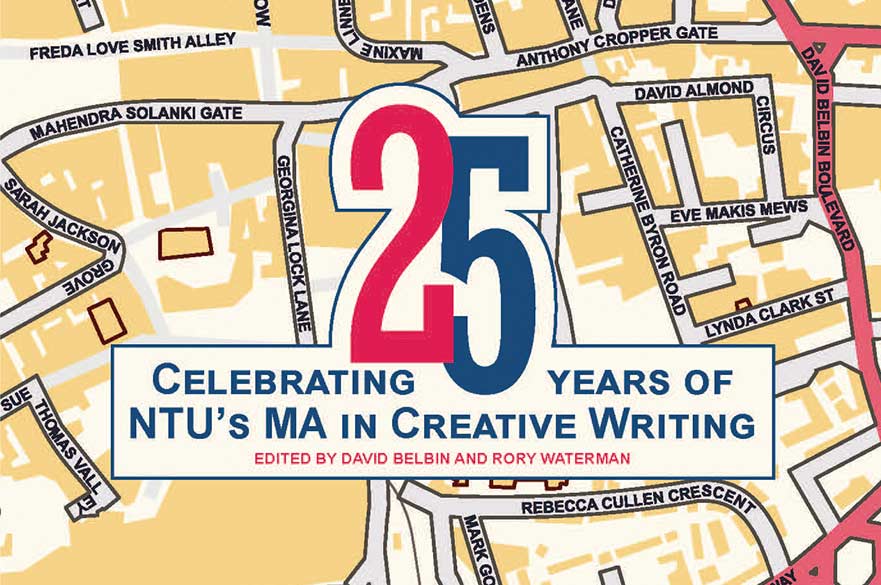 I don't post much about my day job here. In 2002, I took a one year part-time contract to teach on Creative Writing courses at Nottingham Trent, in Clifton, including their MA in Creative Writing, one of the oldest in the country. Eighteen months later, I found myself running it, and introducing a module on Children's and Young Adult Fiction. I was able to bring in script writer Michael Eaton and novelist David Almond as Visiting Professors and did the job for seven and a half years before standing down.
Seventeen years later, as of today, I find myself running the MA for a third and final time (I was Programme Leader a second time the year before Rory Waterman took over. This semester I'm covering while he takes a much deserved sabbatical). A little daunting, as the MA has expanded since my day, with over forty students, but it feels appropriate as, over the last year, Rory and I have edited an anthology celebrating the MA's 25th anniversary, to be published by the ever estimable Shoestring Press on October 29th.
Choosing who to invite to contribute was tricky, as we could have easily had double the number of contributors, but editors have to edit and we decided to limit ourselves to one for each of the MA's existence (we also allowed ourselves a piece each and were lucky to persuade Graham Joyce's widow, Sue, to give us the opening chapter of the novel he was working on when he died, so there are actually 28 contributors). Our criteria were that only permanent members of staff and visiting profs would be asked to contribute so that more than half the contents would be by former students, who had to have had a book published by a commercial press.
The earliest contributor is Sue Thomas, who founded the MA in 1994 (along with poet Greg Woods, also present). The most recent is novelist Eve Makis, who joined the permanent staff last year, alongside Anthony Cropper. The person we added last was MA graduate, Lynda Clark, whose brilliant short story Ghillie's Mum won last year's Commonwealth Prize and is up for the BBC Short Story Prize next week (her first novel is also published in October and she's starting her first post-PhD job, so it's a golden month for her).
Every single thing in the anthology is previously unpublished and there are some real treats, like the first poems in many years from Field Day anthology Irish poet Catherine Byron, another of our earliest tutors, the opening of a never published novel by Carnegie Award winning David Almond and complete monologues from Michael Eaton and Georgina Lock. There's loads of great poetry and it's been a privilege to edit new short stories by several former students, including Nicola Monaghan, Maria Allen, Clare Littleford and Frances Thimann. I've written a new one, too, Reunion, which is about former lovers meeting twenty years on at a poetry reading.
I had an ambitious idea for the cover and, as you'll see from the section above, Nat at Narrator has done a brilliant job of realising it. There's going to be a launch on October 23rd at NTU's University Hall (the first time this space has been used for an event other than graduation) with several of the contributors reading and copies of the book available at £10 instead of £12. Please come if you can. The event runs from 7-8 and will doubtless continue informally at nearby pubs like the appropriately named The Playwright. It's free. Book here.