Visiting The Beatles' Childhood Homes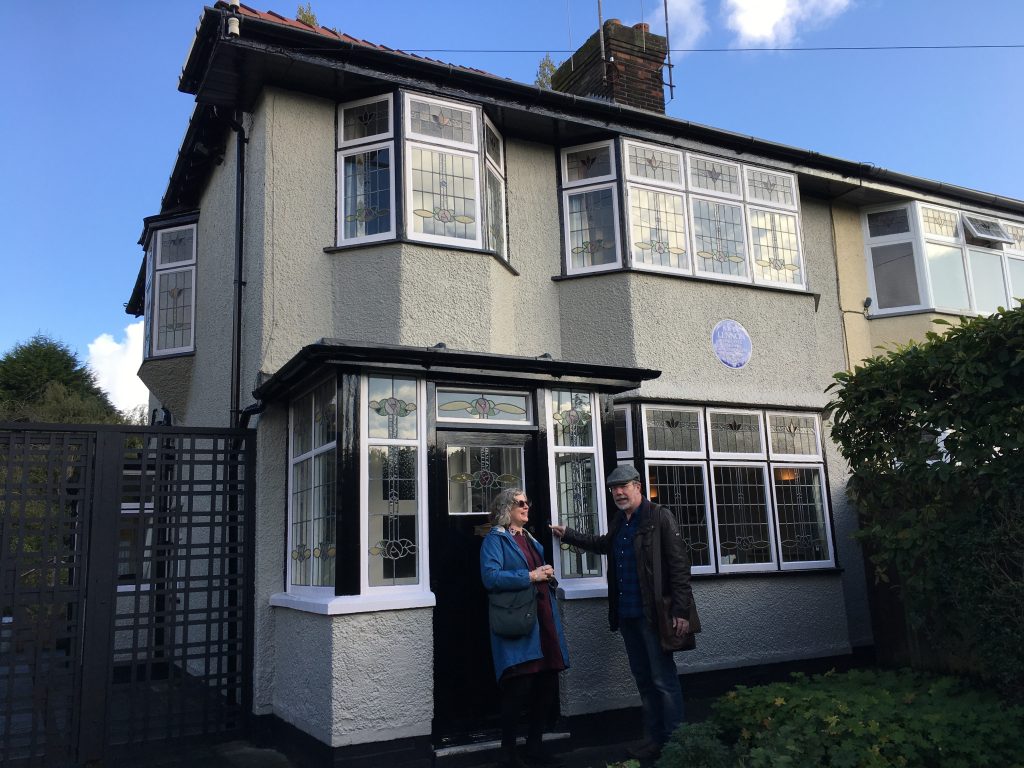 My family moved to West Kirby, on the Wirral in early 1963. Dad had a new job in Liverpool. It was a long, bitterly cold winter and I remember snow still covering the ground. 'Please, Please Me' was number one, but I don't recall that. I was five. Across the Mersey, Beatlemania was beginning. My mum bought all The Beatles' Parlophone singles and albums, which I endlessly played. A year of so year later, with my late friend Mike Russell, we visited the NEMS record shop, where I was given money for the Long Tall Sally EP, the first record I ever bought. I'm playing the songs of my life on John Holmes' legendary Sunday radio show just after 11AM next Sunday (Nov 3), a Nottingham institution and today make final decisions on what to play. So much that has to be left out, but my musical history has to start with The Beatles. Because it did.
Only, which one? We drove past Penny Lane on Sunday, and that's a contender, but it's a Paul song and John was always my favourite (my younger brother's called Paul, so naturally chose him). Two hours later, I was standing in the room where John and Paul wrote the first Beatles song that blew my little mind: 'She Loves You'. But I'm getting ahead of myself. We were in Liverpool to catch the excellent Double Fantasy exhibition, full of archive stuff donated by Yoko, and extended until next weekend. This gave us the excuse to also do something I've long wanted to do, while worrying that it might turn out to be disappointingly ordinary.
Growing up where I did, when I did, it was easy to become a Beatles obsessive. In my first year at Grammar School we were asked to do a biography project. I did thirty pages on John Lennon (only got an A- because, the teacher said, there was too much about his bandmates). I've collected all the records, all the out-takes, the different versions of everyhing. Read the most significant biographies. I felt like I'd been to Mendips and Forthlin Rd before, in my imagination, but no. For a start, the former was a fair bit smaller than I'd imagined, the latter a bit bigger.
They don't let you take photos in the houses, which is wise, because that would spoil the experience (Paul's is full of great photos by the way, by his younger brother, Mike). Even the booklets you can buy are careful not to show too much, though the cover of the Forthlin Road one does show the chair I saw in, next to the telly in the McCartney living room, opposite the piano, while the guide told us about the room and its history. I discovered it was the chair in which Paul wrote 'I Follow The Sun', while off school sick. In the next room, where Mike McGear's old drum kit is still set up, John and Paul wrote 'She Loves You' and so many more, which blew my mind all over again. I went back into that room three times.
If you're a Beatles obsessive , you have to visit if you can. Only a dozen people at a time are allowed, three times a day, in a minibus, booked well in advance. One child apart (she loved banging away on the piano, on which Jackson Browne, when he visited, played 'Let It Be') the others in the minibus were roughly my age, and equally reverential. You can visit without paying, but won't get nearer than the front gate (the 'Mendips' sign has gone, by the way, presumably because people would nick it, but can be seen beneath glass inside). One person who paid was Bob Dylan, who kept quiet throughout. A neighbour warned the guide that there appeared to be a homeless man hiding at the back of the minibus. Bob.
The visits to both homes were a moving, involving, splendidly curated experience that any big Beatles fan would be mad to miss. Both guides were excellent. We especially loved enthusiastic Steve, with his rocker quiff. Each was full of tales about the people who'd lived in the house, the history of every room (John and Cynthia began their married life in one of them), the boys' friends and the changing neighbourhood. But no more spoilers. You've read enough to know if you need to go. I'm so glad that we did.
If you use facebook, there are a few photos from the exhibition and both houses here. Now, back to choosing my other seven records.