Weird Dreams: Roy & Buddy hologram tour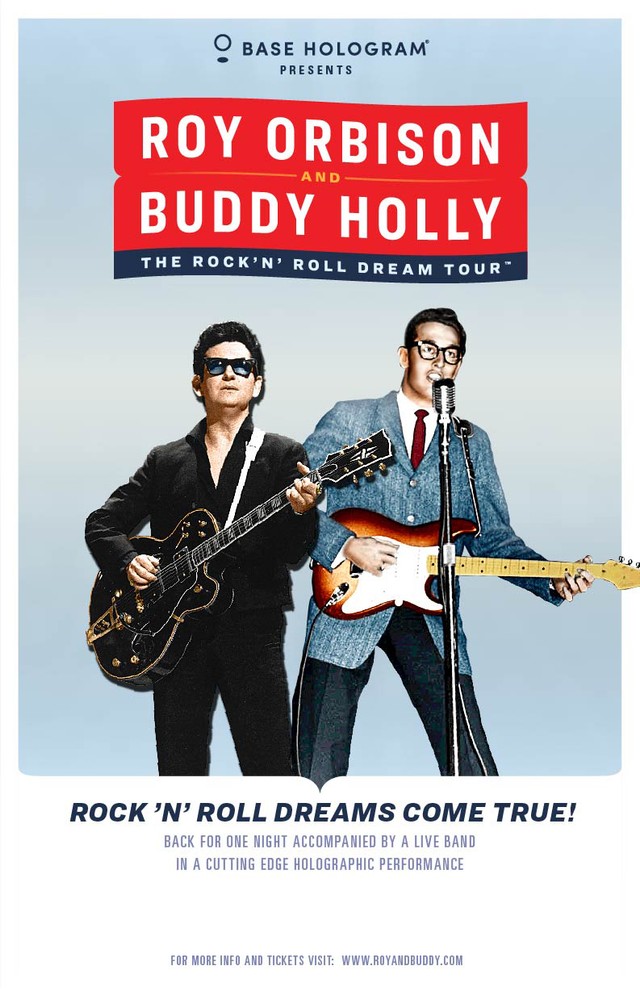 Royal Concert Hall, October 21st, 2019. This review first appeared in the Nottingham Post.
Roy Orbison, famously, was one of the first superstars to play the Royal Centre, on June 3rd, 1985. Tickets were £8 and he played for 55 minutes. I'm told he did all the hits and his only words to the audience were before the encore: 'I've had a request, so I'll stay'.
Buddy Holly and the Crickets played two shows at Nottingham's Odeon on March 8, 1958. In a kinder world, perhaps, this would be a joint farewell tour. Holly died in a plane crash at 22, Orbison of a heart attack in 1988, aged 52. Both men would be 83 now, only four years older than Cliff Richard, who's just announced a date here next year.
Who, you wonder, would headline? Roy had more hits, but if Buddy had lived… Tonight's holograms get over this conundrum by taking it in turns, short sets of varying length. Roy first. Short films before each half, including interviews with the likes of Tom Petty, Buddy's widow, Maria Elena, and, surprisingly, Robert Wyatt.
There's a five piece band and two backing singers. Behind the holograms there's a pair of smoky Rorschach blots, similar to those in the 60's Dr Who credits. That's right, we're time travelling!
After an overture medley, Roy's hologram rises from a virtual trap door. Roy was quite a static performer and the crisp hologram looks OK, in a freakshow-ish way. Its occasional glance backs to the musicians are a nice touch. Buddy's hologram looks like a cartoon, too tall, too well built. It moves well, yet you never for a moment feel you might be watching the real thing. They do the hits you'd expect, including the wonderful operatic Running Scared and Peggy Sue. At the end of Maybe Baby, Buddy vanishes in a puff of smoke. Nice.
How does the show sound? As Whitney Houston's hologram might pronounce, 'it's not right, but it's OK.' The band are strong. Stupidly, the side-screens stay on throughout, projecting the tour's title, making it impossible to forget that you are, essentially, in a museum, watching a 3D image projected onto a screen, behind which real musicians play.
We get two Orbison's 80s hits in the second half, a rousing You Got It and a lively I Drove All Night, where the crowd clap along to the intro. It's the only part of the evening with a hint of atmosphere. Many of the audience are old enough to have seen that 1959 Holly show when they were in their teens. Their applause is polite, muted at best.
For the encore, we're treated to a reunion of the Travelling Wilburys, with Buddy taking the role of the still living Bob Dylan on 'Handle with Care.' Sorry, I'm kidding. There was no encore.
This strange night lasted a scant ninety minutes and was probably best enjoyed with closed eyes. The time would have better spent in front of YouTube with the full 1988 Orbison concert A Black and White Night. That's the way I'll choose to remember him. Approach similar events with caution and a closed wallet.
Buddy Holly – Rave On
Roy Orbison – Running Scared