David Baddiel – Nottingham Playhouse 1.3.20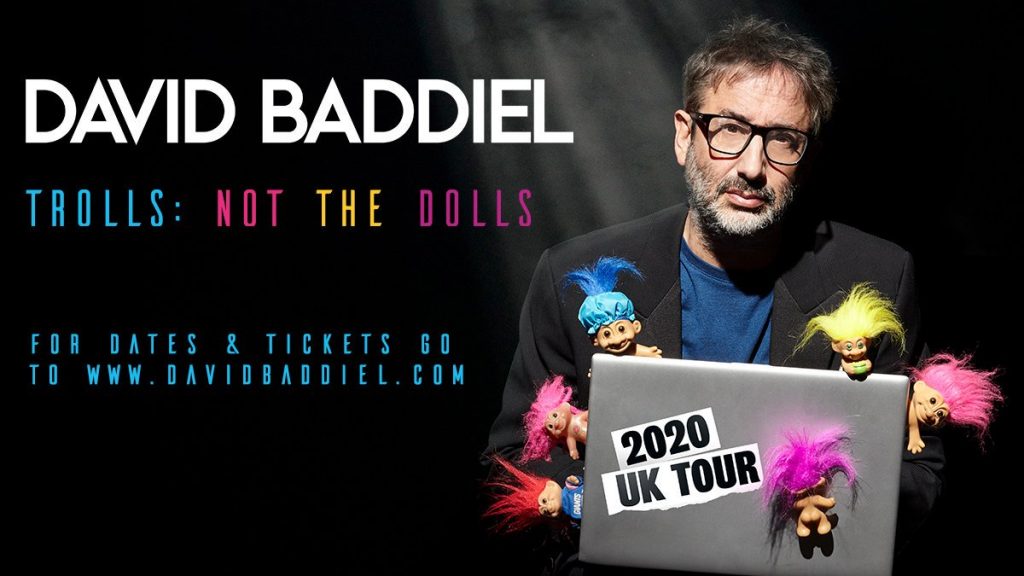 David Baddiel's a busy guy. Already this year he's made a powerful documentary, Confronting Holocaust Denial (available on BBC iPlayer until March 19th), as well as debuting tonight's show, about social media. The gig sold out so quickly that a matinee was added. That sold out too.
He's preceded by three minutes' worth of onscreen tweets, one describing his look at an awards show as 'Aldi Jeff Goldblum,' a gag that he, naturally, embraces. How much you like this show will depend partly on how much you like Twitter, which Baddiel happily confesses that he is addicted to (I can relate). If I were trolling him, I'd be tempted to point out that tonight's generous two hours must have been one of the easier shows Baddiel has written. All the comic needed to do was reread his timeline, curate a few of the greatest hits, and add a bit of commentary. The latter largely consists of him repeating that 'the truth is complex.'
Regardless, it's a lot of fun. The real Hugh Grant makes a joke about masturbation on Baddiel's timeline. He offers a spirited defence of why it ought to be acceptable to use the 'c' word – the basic gist of which is that we ought to divorce it from description of female genitalia as it's too good an insult to be ruled out of use for sexism. A guy with bad English called Carlos is the affectionate butt of several gags and a punchline or two.
Things get a bit more serious in the second half, but he's determined not to get too heavy. Graham Greene, he reminds us, wrote that 'hate was just a failure of imagination.' (It's in The Power and the Glory). Anti-semites are exposed with good humour. We laugh at Hitler in shorts. He slaps himself on the back for occasionally getting the better of Piers Morgan and Julia Hartley-Brewer.
I've never been tempted to see Baddiel before but tonight's subject matter was what drew me in. Did I learn anything or did it make me think in a different way about the subject? Probably not. But it did keep me entertained, and it did remind me why I love Twitter (albeit as someone who's never been the subject of a Twitter pile-on). The best way to use Twitter, the Jewish atheist argued at the conclusion, is not to shout or seek confrontation, but, when you can, be funny. Amen to that.