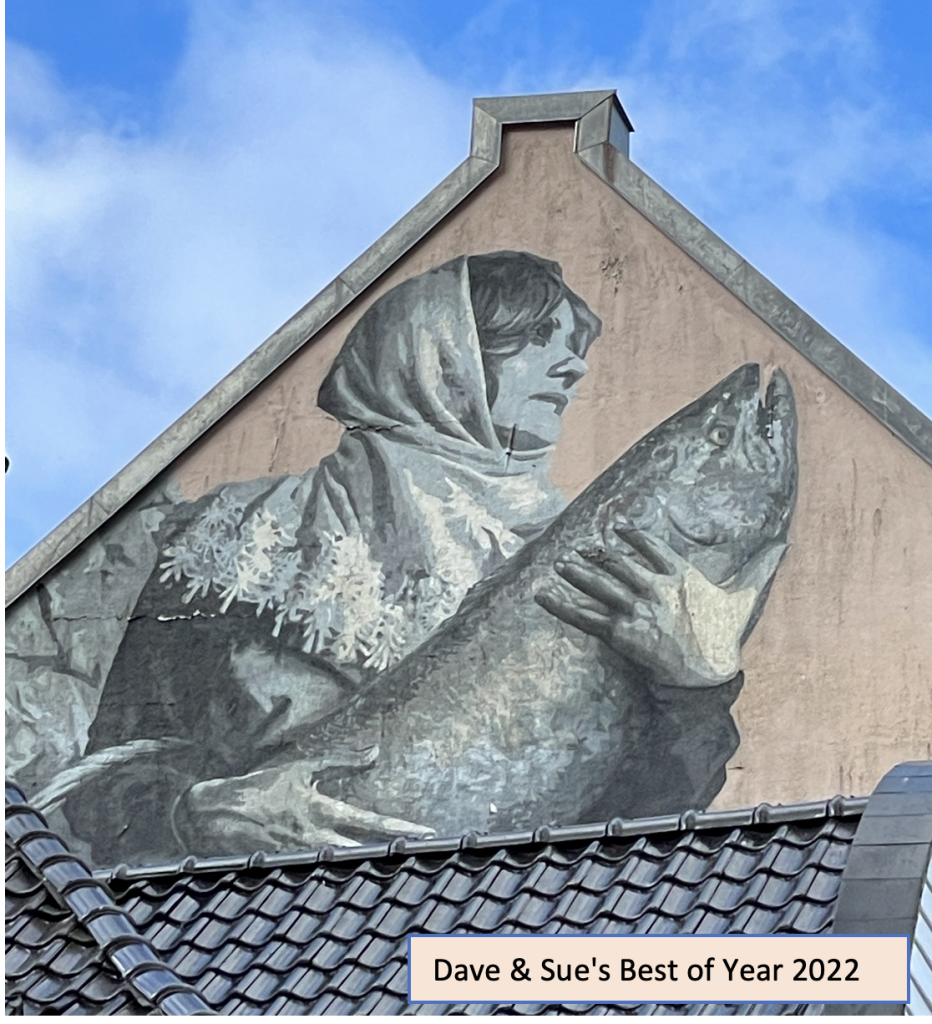 Every year since 1988, we've put together a best of year compilation, initially on cassette (C90, C100 and, one year, C110!), then, since 2000 on CD (where you're limited to 79.57). For two years we've also put together a Spotify playlist, and I'll be doing that this year, too (with one notable, unavailable selection, the last track on the CD). Given that so few people now use CDs, we've added a note to this year's, asking people to email us if they want to be sent a CD in future (& tell us about their favourite 2022 track). What with postal strikes, the increasing impossibility of sending things abroad due to Brexit and printing costs (this year's cover image cost more per copy that the blanks CDs) the days of snail mail and physical media seem to be grinding to a halt. A bit like… but let's not go there.
If you're expecting a CD, you might want to look away until it arrives. Otherwise, a good but far from classic year for music, with the return of live gigs and plenty of decent albums. Ones that I've played a lot and could have featured below include, in no particular order: Spoon, Ian Noe, John Fullbright, Alvvays, Kendrick Lamar, Beyonce, Big Thief, Eels, Big Joanie, Suede , Sault (Air + five new albums to take in, I mean come on!). If I'd seen White Noise before compiling the disc, then LCD Soundsystem's 'New Body Rhumba' would have been our penultimate track. Rarely does the entire audience stay for the credits sequence (you do have to sit through a very uneven film to get there, but what an ending). Rather than post individual tracks, follow this link to the full 2022 playlist.
Lyle Lovett – Cookie' at the Continental The CD begins with a return, the first Lyle Lovett album for ten years. I tend to go most for his plaintive ballads but, in this case, the instrumental that opens the album is so swinging, it has to start our CD too. Be great if Lyle toured. I've only seen him twice, many years ago, though I had tickets for two cancelled shows as well. Seeing him and his large band at Massey Hall in Toronto back in 2010 with Sue and my dear friend, Paddy, was pretty special.
Ezra Furman – Forever in Sunset My sister Fran and niece Ev were up against the bar for Ezra at Green Man on the Sunday and I'm dead jealous because, although I've seen her three times, it's been years and I was looking forward to a big gig celebrating her biggest, most outward looking album to date. The show, I'm told, was epic, appropriate Springsteenesque, as is this anthem number, but I'd had to leave early. Ah well, I'll always have that inshore at Rough Trade, that show at Glee, and the Rescue Rooms.
Dry Cleaning – Conservative Hell In last year's sleeve notes, I mentioned that I was about to see DC do an inshore at Rough Trade. This was a gig to celebrate their debut being announced as Rough Trade's album of the year, and it took place, at the fourth time of asking, in early August. We got their full festival set (useful, as I had a clash at Green Man) including one new number. Recently released second album, Stumpwork, is as strong as their debut: a laconic snapshot of 20s Britain with a Krautrocky backing and some plenty of wit. Also, the title seems particularly apt this year.
Courtney Marie Andrews – Loose Future I somehow managed to see CMA three times over the last two years. An Instagram gig was followed by a solo show at Metronome that was originally scheduled for early summer 2020. Then she did a great instore at Nottingham's Rough Trade in support of her new album, of which this is the title track. Poppier than her previous albums, and none the worse for it. There's also a great song with the line 'you're the kind of person that everyone forgives'. At Rough Trade, I misheard this as 'who everyone forgets' which is much edgier.
Mary J Blige – Good Morning, Gorgeous This is pretty much a perfect record. I nominated it for Tom Ewing's excellent monthly people's pop poll on Twitter, which has helped keep me sane during the last two and a half years. Glad to say that it made the cut for the best of 22 poll, which starts on New Year's Day. My top nomination, which also got in, was for track 17. Kind of annoyed that track 16 didn't make it, but the artist in question was capped on two nominations. That's the way it goes when you put out an album full of great tunes.
Wau Wau Collectif – Mariage Force. My friend Tim put me onto this band last year and their second album, of which this is the title track, is just as strong. The band are a Senegalese/Dutch collaboration and there's much more about them here.
Mdou Moctar – Afelen In August was sitting with my brother and sister on the grass near the front of the Mountain Stage at Green Man, expecting to chill out while listening to Katy J Pearson. But the music that began sounded more like Tinariwen or, possibly, Tamikrest. I stood up to see this African band (basically the Tuareg musician Mahamadou Souleymane and whoever's playing with him) tear up the stage for an hour. I'm late to the party – a track from his last album was on Barack Obama's 2021 music list, but happy to join the party in full flow. This is from a live Bandcamp only album.
Beth Orton – Lonely I could have picked any track from this chilled, very lovely album, which veers closer to Orton's early work than the disappointing Kidsticks. Ten years since its predecessor, the excellent Sugaring Season. Hope she tours. And yes, I chose this because it's the only shortish track.
The Comet is Coming – Lucid Dreamer I saw this band at Green Man in 2019, but only briefly, as they were on in the Far Out stage after the green man had been burnt and we were having a last wander round. Their next Nottingham gig was already sold out, but I now have tickets to see them at Rock City in March. I did get to see their side project Soccer96 on the Friday night at this year's GM and they were excellent. As is their new album, which is an intense, frenetic listen. This is actually one of the calmest points on this terrific jazz album, which is well worth a full listen. I play it a lot.
Midlake – Bethel Woods I've had an 'take it or leave it' attitude to Midlake's Americana, which can veer upon the bland. This track is such a rich stew, though, with a timeless quality I find it hard to resist.
Craig Finn – This is What It Looks Like Finn, lead singer and writer of The Hold Steady, with the concluding track of his latest 'A Legacy of Rentals'. The problem with songs that are also short stories is that they rarely stand up to repeated listening. Finn avoids this by having songs that have a Springsteenesque quality to the music (second time I've referred to him but you won't be getting anything from his lazy soul tribute album, the first in a series of cover sets that suggest he's decided on dotage) and lyrics that are resonant enough to revisit often.
Band of Horses – In Need of Repair This has a dreamy Beach Boys style intro and is catchy as hell. 'Sitting in my usual chair' – you'd say it was as close as we get to easy listening, but then you get to the next track.
First Aid Kit – A Feeling That Never Came Sue fell for this one when they kept playing it on 6Music. They can be a bit saccharine, but they can also be catchy as hell, something I discovered at Green Man seven years ago. Oh, and while we're in the don't sniff just because they're popular mid-section…
Wet Leg – Being in Love Last year I skipped including 'Chaise Longue' because the track got played so much that the novelty wore off and it was starting to get irritiating. You can't deny, though, that their album is full of exhilarating, tuneful, witty pop-rock, like this, and live they're a joy
Panda Bear & Sonic Boom – Edge of the Edge Another ridiculously catchy number from this Animal Collective spin-off. AC recently cancelled all their touring plans, saying that it's no longer economical for them to come to Europe. Saw them play a terrific show at the Rescue Rooms ten years ago, on the Merriweather Post Pavilion tour. Looks like I won't be seeing them again in a hurry.
Hot Chip – Broken Was rather sad not to get my nomination of this track in the People's Pop Poll end of year poll, which starts on January 1st. My favourite track from a cracking album: plaintive yet punchy and so fucking true.
Arctic Monkeys – Body Paint But this track was my number one nomination, the best song on the excellent new Artics album, The Car, which completes their transformation into The Last Shadow Puppets (an Alex Turner side project from a few years ago).
The Delines – Past the Shadows Good to catch up with Willy Vlatuin at Metronome (where I also saw Elvis Costello and had my own book launch with Gaffa for Don't Mention the Night) again earlier this year. And this time I wasn't hit with a £60 parking fine because the gig over-ran (that car park is long gone) as in early 2020. The Sea Drift is another soulful, terrific Delines album. What a singer Amy Boone is.
Baba Sissoko – Gherena Music from Mali, via Italy. It's felt like a good year for 'world' music, and we just booked to see Seckou Keita with the BBC Concert Orchestra at the Concert Hall (which celebrated its fortieth anniversary this year – it was a privilege to be on a panel about all the gigs I've seen there) on March 1st.
Elvis Costello – Mr Crescent Elvis's gig at Metronome, which was one of those, buy the album with a ticket thrown in so it gets in the charts shows was a generous hour and a half of talk and songs, including great performances of both 'Shipbuilding' and this song, which closes his rather strong latest album. Often, people at Rough Trade say, people will buy the cd for the free gig ticket, but not even collect it, because nobody under fifty uses CDs any more. Indeed, last night, a 60ish friend told me about his expensive new hi-fi, which works with Spotify. He has a CD player, which he'll keep in a drawer, to connect up when needed. Which is bound to be… never. He still took away a copy of this best of year CD though and we're coming to the sad conclusion that many of them are wasted – hence the move to a playlist. However, some songs just can't be found on Spotify. Like…
Bob Dylan – I Can't Seem to Say Goodbye At the end of October, my sister-in-law Claire, on the seventh row at her first Dylan gig, found herself happily condescended to by two sixty-something veterans, who pushed their way past her to beat the queues the moment Dylan left the stage. 'He never plays encores' they told Claire, and they'd seen him six times. I've seen him rather more times than that (though never, until now, with my brother, Paul) and he'd usually played an encore, albeit not recently. That night, however, just as those guys would have hit the street, Bob came back on stage – for the first and last time during his European tour – and started to talk about Jerry Lee Lewis, who had died that day, and how he would live forever. Then he played this song, sublimely. It's not available on Spotify, where I've had to put Jerry Lee's original (breaking my only songs released in the last twelve months rule). But, since you've read this far, it only seems fair that I should put Bob's Nottingham performance on here, as a farewell to the disc, to Jerry Lee Lewis and to the CD age, which lasted nearly as long as the LP age. A Merry Christmas and better New Year to everyone who's read this far. See you on the other side.