An Evening with Donovan at Nottingham's Albert Hall, 2015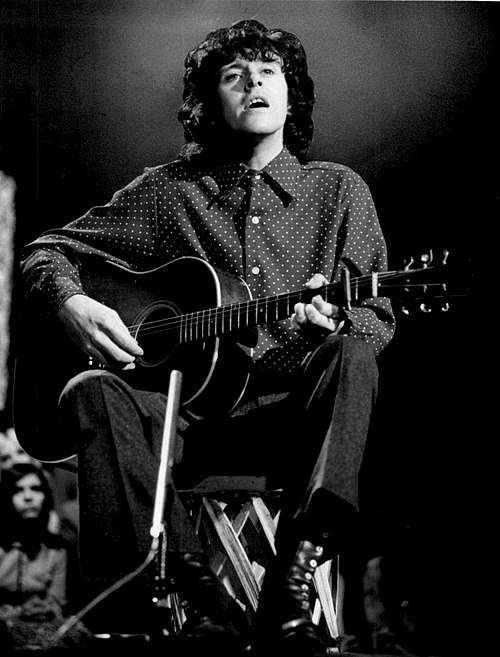 Here's another Post review I never got round to posting on the blog, probably because I was meant to be at this gig with my oldest and dearest friend, Mike Russell, who was in hospital that night and died a few days later. Anyway, a Greil Marcus piece about 'Season of the Witch' (which he played that night, not that I mention it) reminded me of going to this show. This review manages to avoid saying how irritating I found Donovan's personality, though that may come through between the lines. I was surprised by how good the show was. The photo above is from the Smothers Brothers show in 1969. Here's hoping that we'll be hearing 'Season of the Witch' again as the theme song to the fourth season of Jez Butterworth's excellent series Britannia though it hasn't been scheduled and details are scant.
Another fiftieth anniversary tour. Next week sees Georgie Fame, 72, at the Playhouse. The following week Bob Dylan, 74, is doing the rounds. Compared to them, folk-singer Donovan, 69, is still an eager-to-please kid brother. This tour finds him playing songs from every stage of his career, but especially the second half of the '60s, when he was gold. And perfume.
He takes the stage at 7.30 precisely and sits cross legged. He could be half his age – the lighting is very, very low. He promises that we'll never be more than two or three songs from a hit, then goes into the first hit, Catch The Wind. It's immediately clear that his voice has hardly aged. It's followed by his second single, Colours, which works equally well with solo acoustic backing.
The next three songs are less striking, more notable for the unashamedly hippy badinage in between. This is a guy who boasts about his songs putting babies to sleep. Then there's a lovely Jennifer Juniper, a bit of Blind Gary Davis and the first half is over.
He returns with Universal Soldier, which doesn't date. He never gets round to the promised anecdotes about the Beatles but does do a touching tale about bohemian life and making his first recordings with Gypsy Dave at 'a mansion just outside Nottingham' in 1963. Hurdy Gurdy Man is excellent. There's a lovely traditional The Trees They Do Grow High. The Promise, which sounds so like his early stuff he's vowed not to record it, only play it live, is good.
A singalong to There Is A Mountain, Intergalactic Laxative, and that's your lot. But wait, he's standing. Out comes the backing tape for a faithful Mellow Yellow. A fun night, in which ninety minutes, to my surprise, felt far too short.
Here he is, back in the day, performing 'Season of the Witch'.